A typical day at Vassar College looks nothing like the movies. It can easily include walking by students juggling and forming human pyramids on the quad, overhearing "Hips Don't Lie" whistled in harmony from the room across from your math study session and attending a 1920s-style tap dancing Romeo and Juliet. Let's be real. These quirky, colorful student orgs offer a pretty good example of what it means to be a Vassar student.
Check out these 10 student organizations at Vassar College that you'll want to join ASAP.
 1. THE BAREFOOT MONKEYS
Students on campus barely bat their eyes when they pass a colorful scene of juggling and acrobatics on the quad, AKA what The Monkeys call "play time." The group began with just juggling but has grown to encompass a variety of circus arts. Vice President senior Jake Henin said, "One of my personal favorites is called 'drop of death.' Its where one person holds the other above their head and they roll down to the ground. It looks like they're falling." Beyond that, the group stands out thanks to its fire spinning and juggling. Despite its intense feats, Barefoot Monkeys welcomes everyone. They have a saying, "Anyone who wants to be a Monkey is a Monkey." The Monkeys aren't just an org— they're one big, quirky family.
2. AIRCAPPELLA
Have you ever heard of an a cappella group that doesn't sing? Enter Aircappella, Vassar's one and only all-whistling a cappella group. Going strong in its 12th year, the group whistles everything from "The Lion Sleeps Tonight" and the Game of Thrones theme song to "Hips Don't Lie" and Britany Spears' "Toxic." Aircappella offers a close-knit atmosphere for music lovers who wouldn't have auditioned for a singing group. Their president, sophomore Morrigan Turner, said, "Something you learn right away is that it is basically impossible to smile and whistle at the same time. Some of my favorite memories of rehearsals come from one person starting to laugh during a song and setting off a chain reaction until no one is left whistling and we are all laughing."
3. VASSAR ON TAP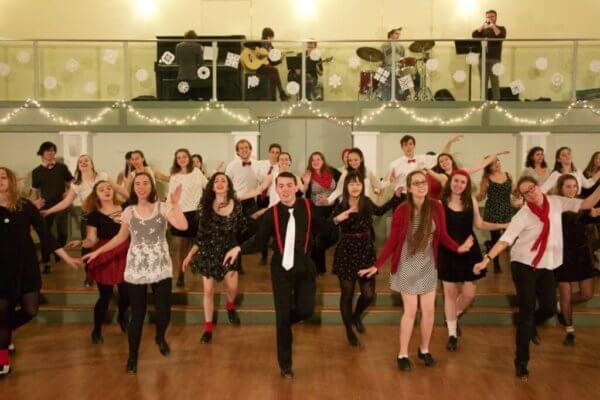 Cleverly named as a play off Vassar's "Brewers" mascot, the tap dancing group makes the list as one of Vassar's fastest-growing student orgs. With four experience levels, it welcomes brand-new beginners to people who've tapped since they were three. Its colorful, joyful concerts, Tappy Holidays and the Spring SpecTAPular, fill every seat and feature student-choreographed dances and a live band. Sophomore Tyler Boyle said, "It's very much a learning organization. If you've literally never put on a pair of tap shoes, there's no expectation that you should know how to do a time step or how to even do a shuffle. And so that allows people the opportunity to really indulge in figuring out what tap dancing is for them specifically." This winter On Tap even collaborated with the Merely Players theatre group to produce a tap-dancing Romeo and Juliet.
4. THE OUTING CLUB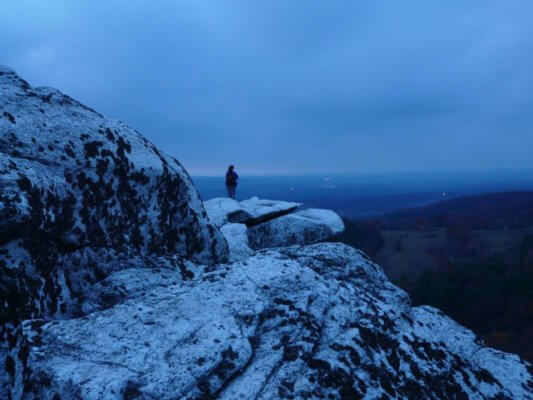 What's quirky about an outdoors club? Clearly you haven't read their weekly emails. The perpetually cheery tone and vivid descriptions of Outing Club's famed emails offer an instant pick-me-up. Many of the trips are quite unique, and the subject titles assigned to each make them even more intriguing. Here's a taste of these gems: "Snowshoeing Ducks Quack Me Up" (a snowshoeing expedition) and "We Won't Just Skin the Surface" (a trek to a dairy farm) Even the people who never have and never will go on an outing club expedition stay on the email list all four years just to read them.
5. CONTRAST MAGAZINE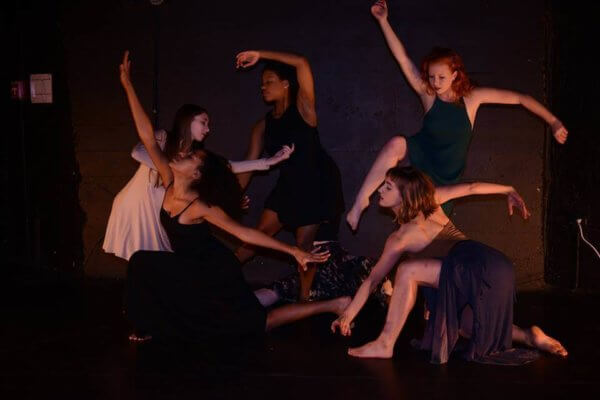 Contrast is Vassar's resident student-run style magazine. Celebrating its tenth anniversary this spring, it stands as the only fashion-related publication. And it doesn't just present fashion trends. Contrast asks important questions and delves into style in unique ways—its latest issue used the concept of time. The issue explored eras that were dynamic but fleeting through photos shoots including 1969 fashion and and '90s grunge. The magazine looks both forward and backward, illustrating the intricate ways in which past, present and future intersect and manifest themselves in style.
6. CAMERATA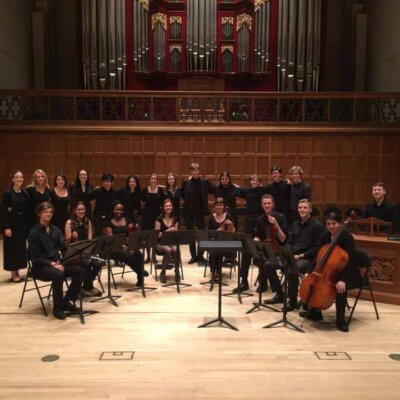 This intimate group of chamber music enthusiasts focuses on Medieval, Renaissance and early Classical music, especially pieces from the Baroque period. The orchestra's co-director, sophomore Isabel Morrison, said, "I have been going through my sequence of music history courses while directing the group, and it's exciting to be able to tell the other group members about things I am learning that are relevant to the historical development of different instruments, kinds of ensembles, styles and composers we play." Last fall they even put together a program of early music written by women. The spring before, they performed at Vassar's Shakespeare festival. "I was attracted to Camerata because it gave me a place to play recorder—an instrument that I'm serious about, but that doesn't typically have a place in orchestras or bands," sophomore co-director Talya Phelps said.
7. NO SUCH ORGANIZATION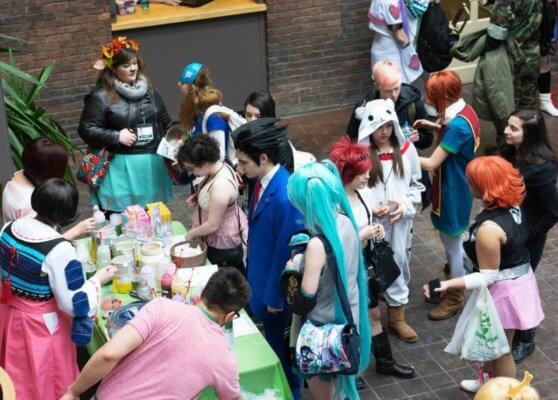 Self-dubbed "Vassar's catch-all geek organization," NSO does just that. NSO isn't just for one type of geek. It welcomes all geeks and wannabe geeks. The org hosts social events throughout the year for people to be themselves and share what they're passionate about. One of NSO's most popular events is its annual Rocky Horror Picture Show shadow cast production, which recently celebrated its 20th anniversary. Whether it's sci-fi, fantasy, comic books, anime or video games you're into, you'll feel right at home. And if you know nothing about any of it, this is the place to learn.
8. BEAUTY AND THE BEATS
Disney lovers rather than singers formed this a cappella group. Today it combines the two in perfect harmony (pun intended). "Beats" covers the classics of course, but also composes a plethora of Disney/pop song mash-ups, including one that features Maroon 5's "She Will Be Loved," and Lion King's "Can You Feel the Love Tonight?" This talented group takes a laid-back and friendly approach that matches its music choices. And they make sure each member gets a chance at a solo every semester. Senior Julia Schmidt said, "We always tie whatever we do to Disney, because that's who we are, but we never let our genre stop us from taking risks and singing what we want to sing.  We just have to be creative about it."
9. WORDSMITHS
Wordsmiths doubles as any poetry lover's haven. Enthusiastic and dedicated, poets of all experience levels meets each week to share their work in a low-key environment with lots of laughter, supportive feedback and good-natured teasing. They host writing workshops that give people that nudge they need to actually put their ideas on paper. Their spoken word performances are a highlight for the wider Vassar community. Wordsmiths is a bastion for creative talent that often doesn't fit into the academic classroom.
10. BRITOMARTIS

Is there really a student org that engages in theoretical discussions about ravens, laptops, existentialism, time and cookie butter spread? Apparently, yes. This devised theatre ensemble creates new texts by intertwining existing pieces with original work. There exist no boundaries for where the show can go. It follows the group's thoughts, whether those entail pizza boxes, the cha-cha slide or the elevator in Rocky.  Junior Megan de Koning said, "The Oreos were the main attraction for me. Why Oreos you ask? I will never tell. You will just have to see for yourself." Talk about quirky at its finest. "I find our creative mindset and mutual desire to push and pull and fold and break and clip and smoosh our world to be most rewarding. Britomartis is not a creative outlet for me but a creative cauldron," said de Konig.