UCLA, a frequent stand in for beautiful campuses in film and television, exudes a photogenic energy sure to enliven your Instagram. Whether you find yourself surrounded by lush, green trees and quaint brick buildings or by the modernist 60s inspired architecture of South Campus, UCLA's campus certainly contains any landscape that will compliment any Instagram aesthetic.
Check out one of these UCLA spots for your next Instagram post.
1. Royce Hall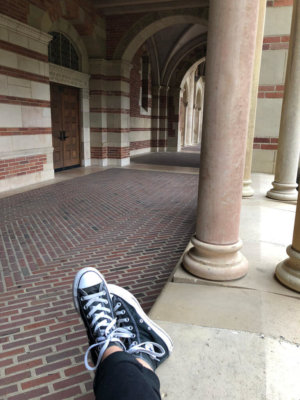 As you rush to your 8 a.m. lecture, you can easily overlook the magnificence of Royce Hall, one of the original four UCLA buildings. Royce Hall serves as a classic backdrop to your obligatory UCLA Instagram post. "I think Royce is the most Insta worthy. It's iconic, on the Bruincard and everyone takes pictures there," UCLA third year Riley Bui said. Just behind the building's large pillars rests a polished scenery complete with artistic tile and overhead murals perfect for professional photos. The nighttime lights also bring an edgy flare to any picture. Even on its own, Royce Hall produces a beautiful sight different from the rest due to the building's asymmetrical architecture. "Royce has to be the most photogenic spot ever. From the arches to the steps, you can never go wrong with a selfie or photo shoot here, especially when you hit that perfect golden glow hour…Magic!" UCLA third year Valerie Espinosa said.
2. Janss Steps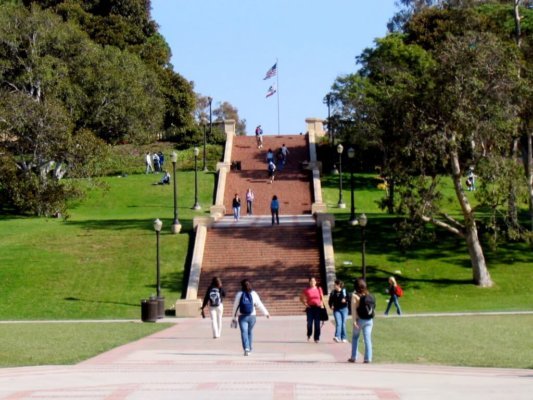 On your way back to your dorm after a sleep-inducing presentation in a freezing lecture hall, Janss Steps appears as a prime location for an afternoon nap. Just a few feet away from Royce Hall sits Janss Steps, another classic UCLA landmark to consider. The time honored steps not only make a great photo when facing the Hill, but also when facing the fountains and Dickson Court. The top of Janss Steps provides a fantastic view of campus and the neighboring hills (including Bel Air), while the bottom of Janss Steps contributes an equally fun scene with the surrounding grass and blooming bushes. If you take your photo at the right time, you can capture the soft breeze gently gliding through your hair or even the cotton candy pre-sunset sky. Whether you want to show off your new LA lifestyle or the lushness of campus, Janss Steps provides a variety of scenes that will surely compliment any Instagram theme.
3. The Hill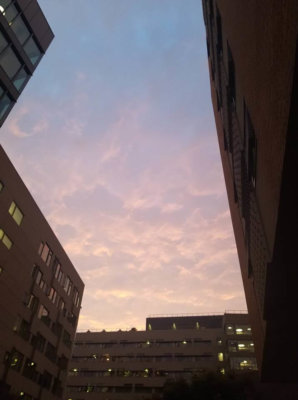 Although not officially part of the academic portion of campus, the Hill presents a subtle beauty.  If the smell of mouthwatering food from the greatest dining halls in the country don't entice you, the hidden nooks and crannies drenched in the California sun surely will. From the lesser known spots like the mound across from Rieber Turnaround, students can capture the crisp sunset behind the vintage styled neighborhood of Westwood. With hip spots like Hedrick Study (particularly its night club-esque blue study room), Sunset Rec and more, finding the ideal spot for your next Instagram photo comes easily. "Honestly, Rendezvous or any of the residential restaurants would make my list because who wouldn't want to post about our world-class food?" UCLA first year Michael Navarro said.
4. Bruin Walk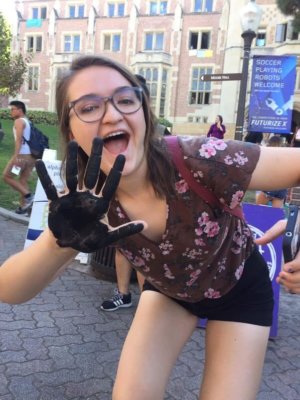 As every UCLA student knows, Bruin Walk presents a beautiful, canopied scene rich with lavish trees. Because Bruin Walk serves as the main path students take to class, students often write it off as a spot where people heckle class commuters to join a club or support an obscure cause. Aside from the often overwhelming presence of student marketers, Bruin Walk can produce a calming environment complete with cool shade, a crisp breeze and a view of UCLA icons like Powell Library and Janss Steps. From Bruin Walk you can also see historical sights like Kerckhoff Hall and the serene, grassy hills surrounding Janss Steps. In addition, the large trees surrounding Bruin Walk create a shaded overhang that will bring life to any photo.
5. Botanical Gardens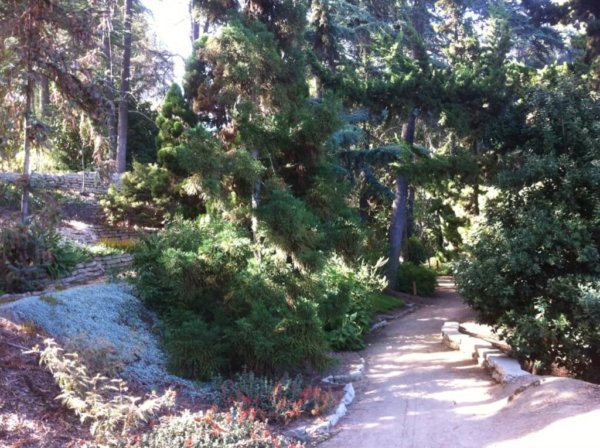 If interested in nature, check out the Botanical Gardens, a haven for plant lovers. Hundreds of different types of plants, such as pastel-petaled flowers and slinky vines, live in the gardens, creating a variety of beautiful backdrops fit for any Instagram aesthetic. Because of the towering trees and luxuriant bushes and shrubs, you will likely forget that your true location in the heart of one of the biggest cities in the world. "In the botanical gardens there is a bamboo hideaway towards the back with some benches that's perfect for a natural green backdrop and it's a refreshing perspective on the campus' usually concrete city feel," UCLA second year Calena Ang said. You might even get lucky enough to snap a shot of the adorable turtles in the small creek that runs through the center of the gardens.
6. The Broad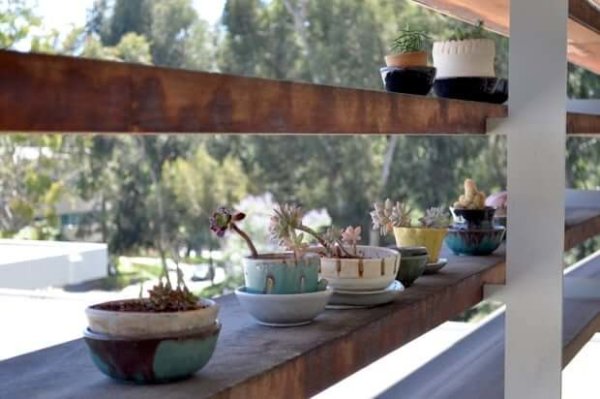 Deep in North Campus, The Broad seems hidden away from the rest of UCLA. Even so The Broad Art Center acts as a double threat, providing fun, modernist styled locations to spice up your feed. Not only can you snap photos outside the sleek, brightly designed building, but also you can capture exciting photos at the top of the building. Rumor has it that students can spot Beyonce and Jay-Z's home from this view. Students will certainly become breath taken with the view of the surrounding areas of Bel Air, Sunset Boulevard and Holmby Hills, even without seeing Queen B's home.
7. Sculpture Garden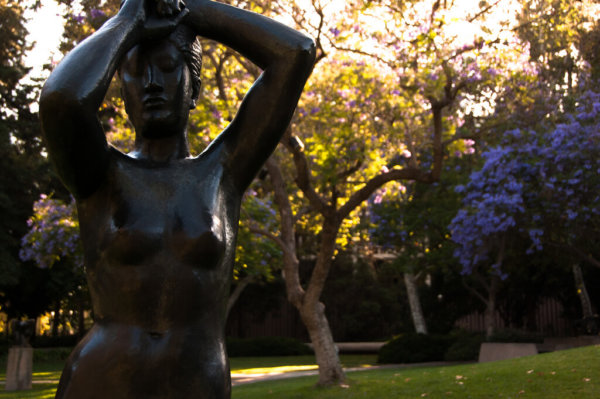 Just outside of The Broad Art Center rests UCLA's famous Sculpture Garden. If wandering around campus from dusk on, one might wonder why so many couples meander through the open area behind Bunche Hall. Known as one of the most romantic spots on campus thanks to its artistic, unique aesthetics, the Sculpture Garden will certainly add some zest to your Instagram. The plush, dark green grass below and the looming oaks contribute to the romance in the air. Whether you pose next to one of the abstract statues or simply capture the area's sunshine covered, nonconformist character, the Sculpture Garden can revive any Instagram feed.
8. Bomb Shelter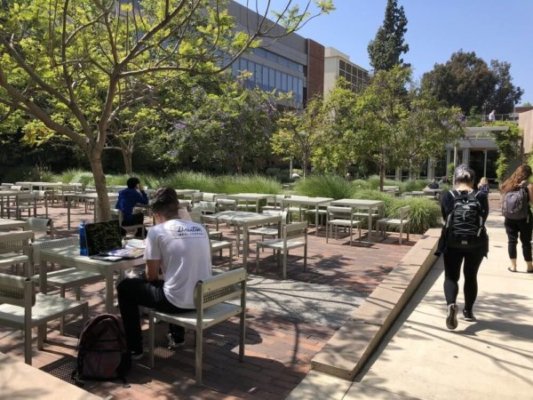 Before prepping for the trek back home from the far off La Kretz Hall, stop by UCLA's Bomb Shelter. This spot perfectly accommodates those who don't vibe with North Campus. While the lower portion of the Bomb Shelter offers a quaint, luscious green scene wrought with history, the top portion, covered in copious amounts of overhanging plants, consuming vines and colorful flowers, contributes to any nature-inspired Instagram aesthetic. Despite its frightening name and history, UCLA's Bomb Shelter presents a relaxing undercurrent thanks to its bustling cafe and brilliant study space and will add an airy vibe to your feed.
9. Inverted Fountain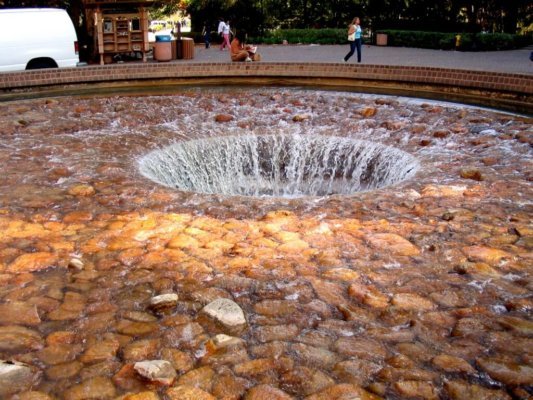 The Inverted Fountain, as you may remember from your exhausting campus tour during orientation, comes with a rich history and campus lore that will bring an interesting twist to your feed. The circular fountain complete with an earth toned color scheme, smooth rocks, rippling water and a variety of architectures in its surroundings, acts as a wonderful place to celebrate one's graduation. If taking a picture at the South Campus gem before graduating, refrain from entering the fountain, as failing to do so allegedly results in the dreaded fifth year of college. If a recent graduate, feel free to splash around to capture that adorable graduation pic.
10. Bruin Bear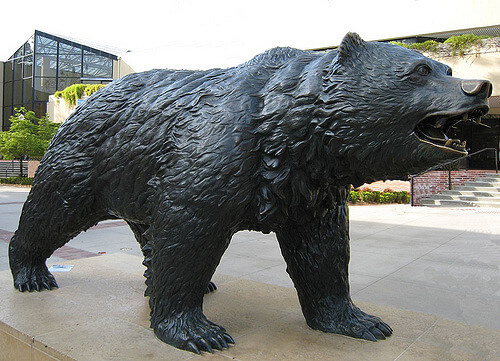 As you rub the Bruin Bear's back paw for good luck on the way to your next final, consider its potential as a backdrop to your next Instagram photo. Perhaps the most photographed place on campus, the extravagant Bruin Bear statue just outside of UCLA's John Wooden Center acts as the perfect companion in any picture. "Every incoming and graduating student takes a photo here because the lighting is always good and it's kind of tradition. The Bruin Bear is central to the heart of the UCLA campus and the heart of all students," UCLA third year Evan Lovell said. If just entering as a freshman or saying a tearful goodbye after graduation, the Bruin Bear signifies the essence of UCLA student life.