The Class of 2020 completed orientation and the Class of 2017 registered for its last semester. As future politicians, AU students fearlessly speak their mind and share their complaints. The upperclassmen studied and partied their way through three years of the college life, and they have the low down on their least favorite things about AU. These 10 complaints make eagles not want to fly.
1. The Metro sucks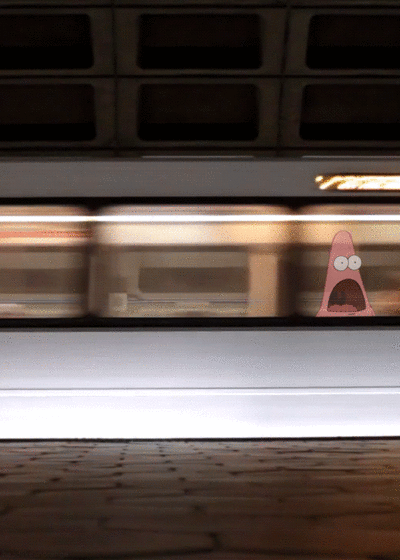 Single tracking. Fires. Floods. Unidentified smoke. Mechanical malfunctions. Broken escalators. Violent fights. If you want to feel like Sandra Bullock driving an out of control bus, ride the metro. It's bad for students at American University who have to commute from the city for internships almost every day. Some students said that it can make their trips to internships in the city 45 minutes to an hour longer than it should be by car. Most students don't have cars or don't want to spend lots of money on Uber. Metro should be a great alternative considering that AU now offers passes for the whole semester for a cheap price to students. But Metro isn't always that reliable. "The metro always seems to be on fire at one place or another, but that's DC," senior Dan Lagnado said. Even the metro buses can have problems like not being able to drive during the winter. If transportation in Boston can run through with 2 feet of snow DC metro needs to get its shit together.
2. Eagle Secure fails during finals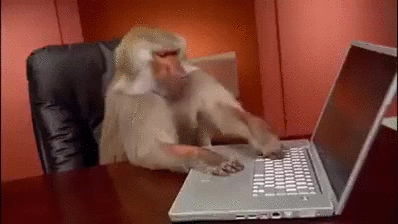 Username: EagleSecure
Password: **********
Logging in…Log in failed, please try again…
When it comes to doing work for classes or checking grades, Eagle Secure is a must have. Without it you cannot surf the internet, download documents for class and—oh my god—without it, no one would be able to Netflix and Chill. How scary. Eagle Secure can be very unreliable, especially for the majority of the population that does not technology well. "It's so slow it just makes trying to do my coursework more stressful," junior Ariel Michaelson said. There's no telling when the Wi-Fi will crash. Hopefully you've finished at least half of your paper or a third of your Netflix pleasures. Some students have failed online exams because Eagle Secure crashed. What type of connection is that? C'mon, AU!
3. Laundry costs too much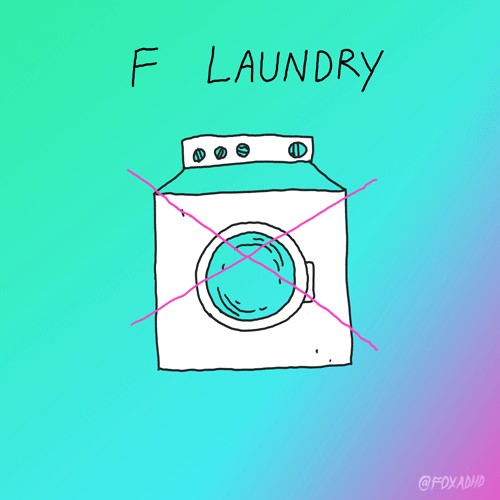 We all know the broke college student struggle. The least the university can do is reduce the cost of laundry. Half of the time during my freshman year I ran out of Eagle Bucks, so I went to class with dirty clothes. Senior Sam Ferguson said, "It definitely is overpriced. I have to spend around six dollars to properly get my clothes washed. That's the same price of a Subway sandwich, which at AU is worth $20 or a meal swipe. At home, one wash maybe costs $1.50, so AU is at least tripling everything." I would rather wash my clothes in the sink before thinking of paying that much for laundry. On a completely unrelated note—thank you to all the people who dropped their school IDs in the dorms. They were put to good use.
4. Lack of TDR food between the hours of 2 p.m. and 5 p.m.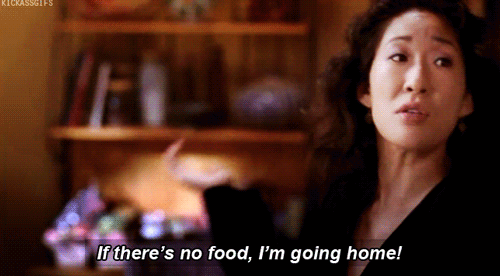 It's either a coincidence or just a big failure that food options in the cafeteria lack during a time when most people finish classes. "Same thing every week and between two to five p. m. there is no food in TDR besides burgers and pasta which is silly because people eat between those hours too," senior Sami Al-Ghoussein said. Many people know this feeling all too well. When faced with a lack of food in the cafeteria, students usually resort to plan B: Subway.
5. Limited for 24 hour food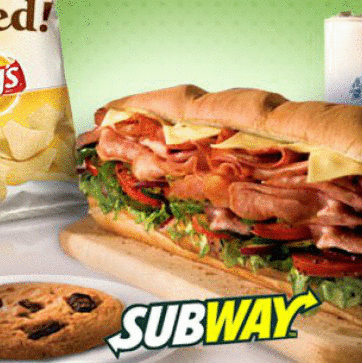 Staying up late studying for finals? Get your food and study snacks before everything closes around midnight. Looking for a post-study snack? You better cop one before you get to the library. "The only dining open later is Subway, which gets very old very quickly," junior Jackson Rubinstein said. I can tell you firsthand that Subway is the worst. Do you think I want to smell the processed meat and toasted bread while on my way to the gym? None of the sandwiches actually ever look like they do in advertisements. At AU, you can have it your way—just from 10:30 a.m. to 2:00 a.m. Personally, I'm taking my eating talents to the new Chick-Fill-A opening this summer in Tenlytown.
6. You will not get what you deserve from meal plans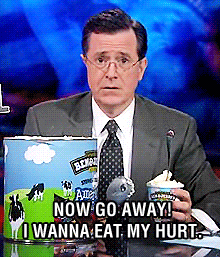 Another common complaint from students: AU rips off students on meal plans. "It's not worth the cost…it's supposed to be 20 dollars' worth a meal, and stuff like Einsteins is worth 5 bucks," junior Olivia McFadden said. Freshmen: Don't waste your money on massive meal plans. Wait—actually do get one, so I can have some meal swipes. We can be really good friends if you have tons of swipes. You should buy ice cream to help numb the pain of knowing how expensive school is.
7. Lack of spirit when it comes to sports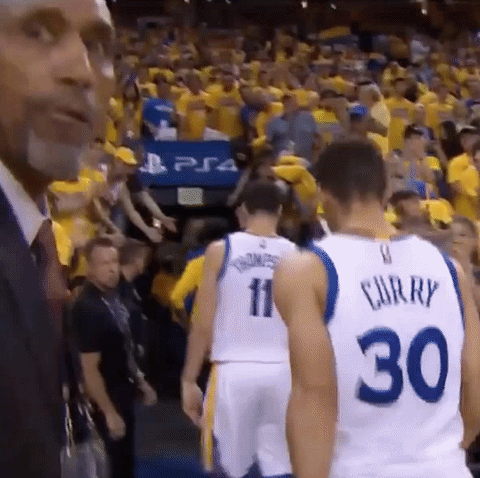 Here at AU we like to say that we have the best football program in the country. Our team has never been defeated. The first and last game was played in 1926 against Emerson. The Eagles won 20-0. Although we have a great sports program, our spirit, or lack thereof, compares to a middle school flag football game. If we had shirts they would say, "Strength not in numbers." "Most students have no interest in sports, and that just leaves the athletic department with very few fans. I wish we had more team spirit and people actually cared. I wish we were a little bit less wonky. That would be great," senior Mischa Galperin said. For those who are not aware, a Wonk ("know" spelled backwards) is a person who can understand a topic of school very well inside and out. I'm sure the decision to come up with this term instead of reinstate the football program had the squad from 1926 rolling over in their graves.
8. Tuition is too damn high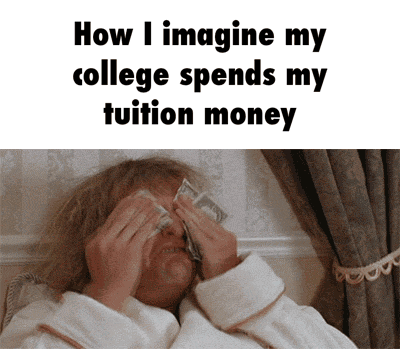 Being so political, I'm surprised that students haven't started a party called Tuition is Too Damn High. "Honestly, for the amount we pay to go to AU we should have a lot more amenities. We should have access to food places 24/7," junior Courtney Kurz said, The average cost of tuition without scholarships is $23,000 a semester. Smh. That doesn't include $14,000 for room and board. While some students are able to pay less because of scholarships or financial aid most pay close to full price. Y'know, we're all made of money.
9. Limited housing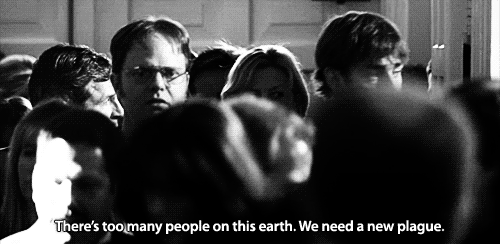 Over the past few years, AU has seen an increase in the amount of students applying and coming to the university. While that sounds fine and dandy, this influx created chaos for students. "If I were to live on campus next semester I would definitely have complaints about the limited housing and general lack of organization," sophomore Chloe Chbat said. Hopefully the new dorms will be constructed soon and be ready for another big freshman class.
10. Construction sucks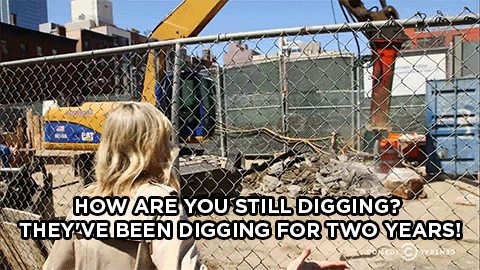 Students complain that avoiding construction while getting to class can be a hassle. Others have grumbled about the stress it can cause during class or for studies. Whichever result, we're all pretty pissed. "Noise and disturbances from the construction have not only disrupted some of the animal behavioral studies, but a few weeks ago a cabinet full of preserved specimens toppled over as a result of the construction," junior Elizabeth Schott said. How can students perform at their top level when there's noisy bulldozers and dump trucks parading across campus?