Chipotle, Noodles and Company, Potbelly, Qdoba and Jimmy Johns; although these options are tasty and fast, eating out frequently will break your bank. It's time to put on your chef hat and make meals for yourself. No, cereal does not count as cooking. I'm talking about tasty, (mostly) nutritious at-home meals that won't break the bank.
1. Not Your Ordinary Grilled Cheese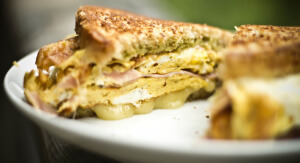 Get rid of the ordinary and transform this classic into an extraordinary sandwich your taste buds will crave. Try adding pesto to your normal cheddar, mozzarella or American grilled cheese sandwich. For extra juicy flavor, add two tomato slices to make this sandwich really pop.
2. Stir Fry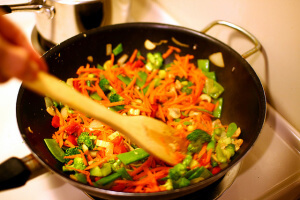 Time to take off the training wheels and make a well-balanced (but still easy) meal. Pick out your favorite colorful vegetables and sauté them in a frying pan with either chicken or tofu. Pair with white rice and soy sauce to keep you full for hours. Make a little extra and you'll have leftovers the next day for lunch.
3. Comfort Chili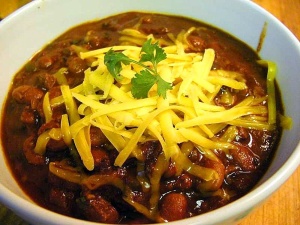 When you're in need of some comfort food or a hearty meal, make a pot of chili. Combine chili staple ingredients like beans, pasta, tomatoes and ground beef, or add leftover veggies you have in your fridge. Eat it right away, or prepare it in advance so you can heat it up for a quick and filling meal throughout the week.
4. Scrambled Eggs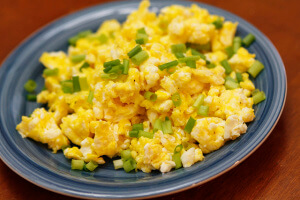 Start your day off with a burst of protein–or maybe even end it that way. Add extra pepper and cheese in your eggs for flavor. Eggs not enough for you? Pair them with a banana to get the most out of your breakfast. Don't be afraid to switch it up and make breakfast for dinner.
5. Caprese Salad with Chicken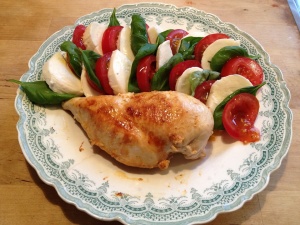 Forget traditional salads and try this 5-ingredient alternative. Combine mozzarella slices, tomato slices, basil leaves and oregano for a flavor explosion. Top with balsamic vinaigrette and add chicken slices to turn this side dish into a filling meal.
6. Spicy Avocado Toast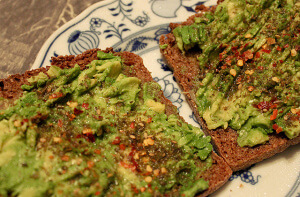 Jump on the avocado bandwagon–believe me, you'll never want to leave it. Try this quick combination of whole grain toast, ripe avocado slices and a sprinkle of goat cheese for a quick energy charge. For those spicy food lovers out there, drizzle hot sauce on top for a combination of irresistible flavors.
7. Pasta for Days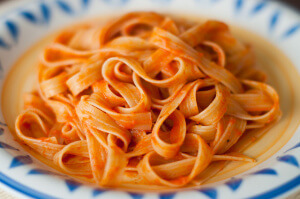 Cook pasta noodles in advance and keep them in your fridge. That's right, you now have a meal staple you can use all week in just a matter of minutes. Warm the noodles up with tomato sauce for a classic or think outside the box and create a pasta combination of your own with sauces, vegetables and other ingredients you find in your fridge.
8. Tortillas for the Win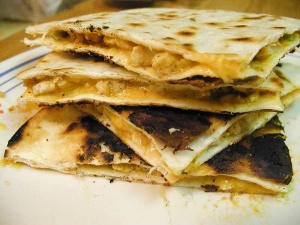 Bring Chipotle home to you. Fill a tortilla with cheese and any vegetables you have to make a quesadilla. Craving something more nutritious? Cook up some meat like chicken or beef and create your own concoction of meat, cheese and vegetables for a burrito not even Chipotle can top.
9. Yep, a Meal Smoothie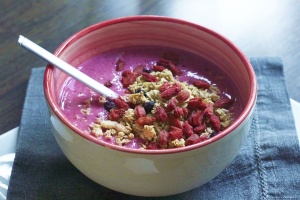 Freeze your fruit when it starts getting too ripe and turn it into a substantial smoothie bowl. Start with a banana and blend it with berries or other fruits, yogurt, oats and either juice or almond milk. Pour it into a bowl and top with fruit slices and granola to get that perfect, crunchy spoonful every time. Have a sweet tooth? Drizzle honey on top of your smoothie for a sweet finish.
10. Pancakes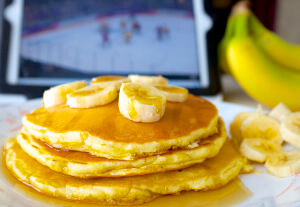 Switch up your meal routine and have pancakes for dinner. Use up food you already have like chocolate chips or blueberries to make pancakes that will satisfy your empty stomach. For minimal time, buy a pancake mix you just have to add the wet ingredients too. Opting for a healthier option? Try a whole wheat mix and top with banana.