Also written by Tiara Desire-Brisard.
If you say your closet isn't overflowing with basic black leggings, you're lying. Leggings can support any outfit, flatter every figure and offer the perfect amount of comfort. But, *gasp*! Your favorite wardrobe staple exists in colors other than just black. Give your workout leggings the chance to take the spotlight of an outfit with these 21 sassy, quirky and unique pairs.
Ombre's moment came with hair and lives on in fashion. Ombre puts a colorful twist on standard leggings and gives indecisive shoppers a break. Turquoise or gray? Why not both? The Danskin Women's Dip Dye Stripe Ankle leggings start with a standard gray that gradually fades into vibrant turquoise, mirroring the transition from standard school you to vibrant nighttime you. "They're moderately cheap, comfy [and] not see-through and gray goes with pretty much everything," Drake University bio-chem major Madison Segar said.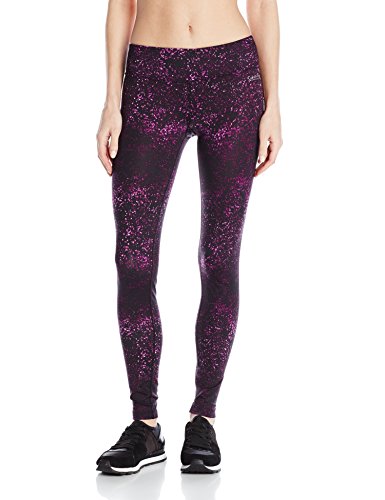 Want to make your ass look out of this world? Try on a pair of Calvin Klein Performance Women's Galaxy-Print Ankle leggings for a stellar mix of comfort and style. "They change it up from just a black pair, but they're not too overwhelming. And I like purple," Creighton University sophomore Kailey Bachman said. You'll be able to stargaze 24/7, and hopefully the cute guys on campus feel like doing some stargazing as well.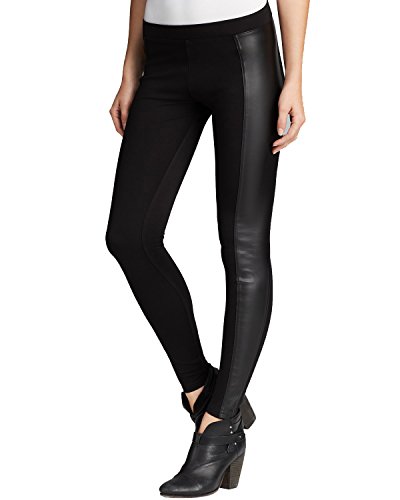 If the Hue Women's Leatherette-Blocked Ponte leggings don't make you feel like post-makeover Sandy from Grease, then you aren't appreciating this cool leather stripe enough. The stripe adds some sass to a casual daytime look or looks fierce as part of a night-on-the-town ensemble. "I'd buy them because they can be worn someplace nice, and there aren't many leggings you can wear as something dressy. They're more classy than regular leggings," Iowa State University sophomore Nia Johnson said. A full leather legging might take months of crazy dieting to feel comfortable in, but these leggings still have the edge of leather with the comfort of spandex.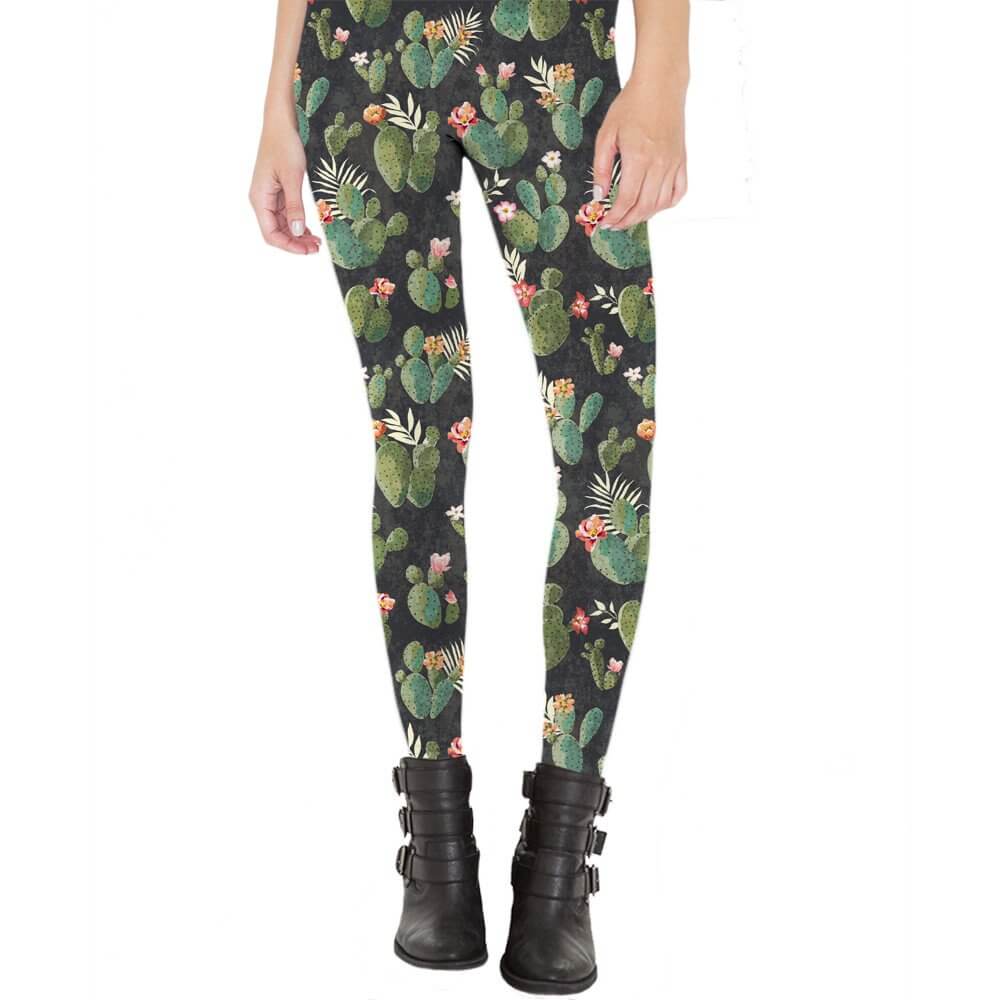 Whenever your leggings play hard to get, the boys won't know what hit them. The way these Prickly Pattern leggings from Sharp Shirter make your stems look invites stares, but the cactus pattern says, "don't touch," which of course makes the hotties want to touch even more. "I would buy them because they're different and not a lot of people would have them," Creighton University sophomore Amanda Chin said. These leggings are the perfect way to show off your quirky side.
These Inner Fire Moroccan Sky legging yoga pants say "Namaste." "I would totally buy these leggings because the light blue would compliment my skin color (pasty white, that is)," Iowa State University sophomore Olivia Schaaf said. Everything from the way these leggings are made to what they're made of to the calming color and pattern makes them the perfect leggings for a long, relaxing yoga sesh. But don't let that stop you from wearing these to class, on the treadmill or just around the house; every moment in life could use a little more "oomf."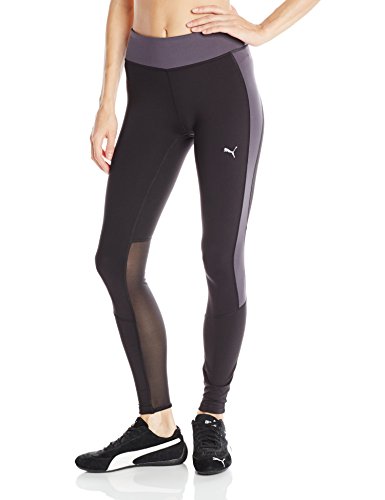 Kylie Jenner has made see-through and Puma cool again. Channel your inner Kylie with your own pair of comfy Puma Women's WT Cool Cell tights with mesh detailing in the calves. Nothing says, "I'm hot" literally and figuratively like mesh. While you're up in the gym just working on your fitness, all the cuties will be trying to witness what's behind the see-through. Don't worry, though; these leggings still keep it classy. "When buying leggings it's important to buy leggings that aren't see through. I would buy these because they don't look really see-through. Plus, the mesh calves wouldn't feel suffocating on the muscular calves I have," Metro Community College freshman Nikki Saner said.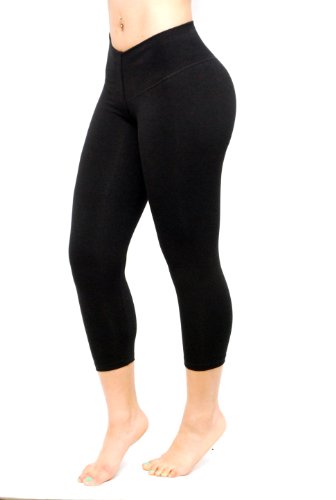 Let's be real. We wear leggings because for comfort and versatility, but for how they make our butts look, too. Bon Bon Up Women's leggings with Internal Body Shaper-Butt Lifter have all the butt-boosting powers of normal leggings, but on steroids. These leggings contain a little secret technology that lifts your butt to Kim K proportions. "I am looking for something with some support, so the butt lifter is just the cherry on top!" Creighton University sophomore Kenna Haley said. Get the booty pump you need without hundreds of squats.
We all know Nike's slogan, "just do it," but these leggings add, "while looking hella cute" to that mantra. Black leggings slim your lower body, but these Nike Leg-A-See JDI Metal leggings come in a light gray, emphasizing every curve and muscle. The metallic slogan on the side mixes the perfect amount of pretty shine and determined steel to fuel your workout. "I would buy leggings to wear while running, so these Nike leggings would be perfect. They look super comfy and can work for both a last say and working out," University of Northern Omaha sophomore Biridiana Miramontes said. Even outside of the gym, these leggings make you look and feel like an athlete.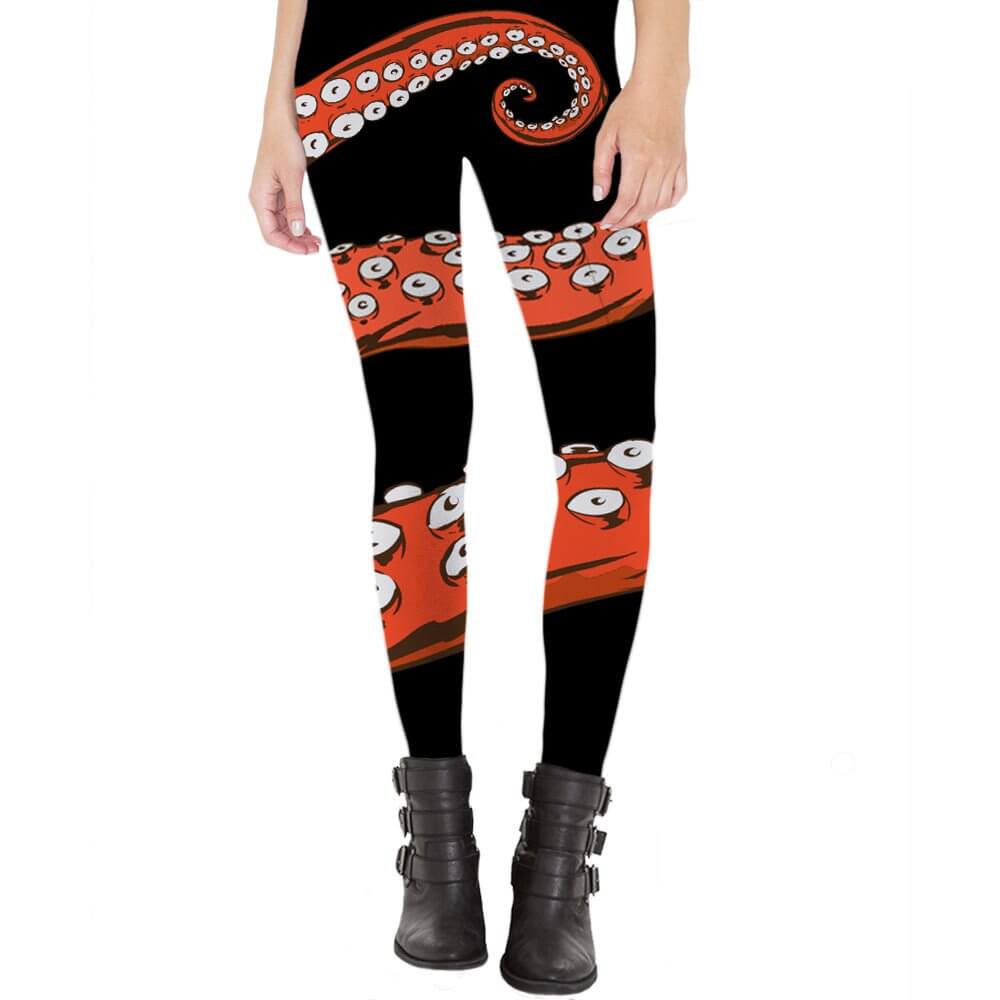 Get a hug from under the sea every minute you wear these Octohug leggings from Sharp Shirter. What may look like plain red stripes from afar actually pops with the little suction cups of your new octopus friend in a quirky twist. Who knows? Maybe the higher powers of the fashion world will deem tentacles the newest trend this season. "I would wear these because they would show off my more fun-loving and confident side," Creighton University sophomore Catherine Weeder said.
"I would definitely buy these VS leggings even though they are on the more expensive end. I love that they have a small pop of color, and they would be cute whether I wore them to go out casually or to the gym," Missouri Western State University sophomore Sarai Miramontes said. VS has always been a staple for cute leggings, and this pair doesn't stray from the qualities that make VS your go-to. The stripe electrifies the plain black with a VS classic pink. The logo on the side shows you know your brands and might jog your boyfriend's memory when trying to figure out your next birthday gift.
Looking for cute AF workout leggings to jazz up your closet? We've got you covered.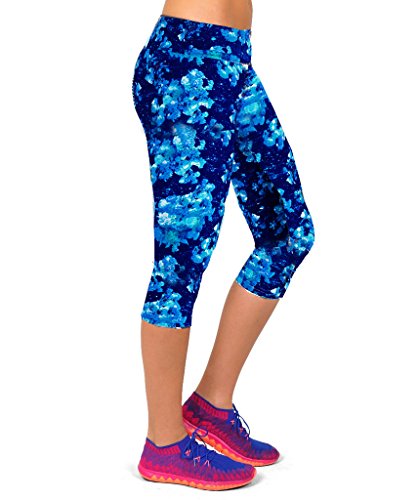 As Miranda Priestly said, "Florals for spring…groundbreaking."  Yet, with a floral pattern, working out will no longer feel like a chore. "I'd probably use them for running or some other cardio since it stretches easily. I'd also wear them in the summer or spring since they're not full length," Binghamton University junior Emily Bodnar said. That's right, with these leggings you can wear florals all year round. Now that's groundbreaking.
Let's face it, girls wear leggings all day, every day. Since we wear them so often, we should search for ones that don't suffocate us. The breathable material makes workouts cool and comfortable. Trinity College junior Patty Gaitan said, "I would definitely wear these to work out and lounge in. They'd be good for the gym or even going for a run." Both stylish and comfortable, you can wear them during long nights in the library or movie nights with your friends.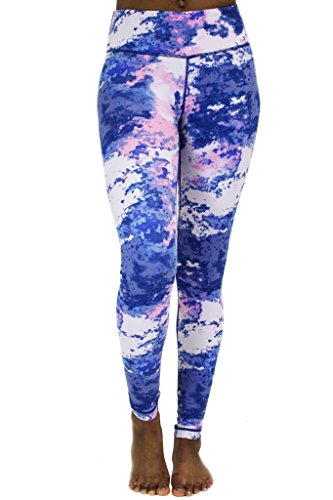 Working out while expressing your artistic side just got a little easier. Channel your inner Picasso during both your workout routine and your weekly errand run. The bright colors and pattern also adds some variety to your outfit even if you're at the supermarket or on your latest four hour Target run. You can even wear them during late night procrastination sessions on your latest project for art class. It may even help you land that A.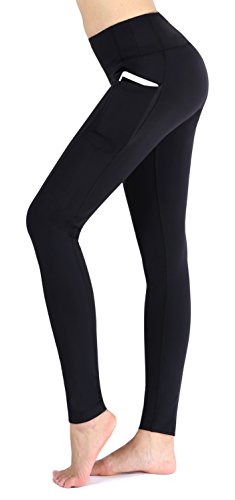 The best part of any women's bottom is having an actual pocket, especially when it comes to athletic wear. With these, you can do your workout while listening to music handsfree. "I like that it's cropped. I can wear it throughout the year them. I think I'd use them for either Pilates or dance," said Wagner College junior Ipek Miminoska.
Compression pants boost your circulation while you work out. Many athletes wear them so that their endurance increases, especially with more intense workouts. So why not pick something to both maximize your workouts and look chic? And compression pants that come in a cute pattern are just the cherry on top. You can use them during your latest HIIT or even Crossfit workout.
We all know we've experienced the best type of workout when we have fun and it leaves us feeling good. Why not bring back those memories of ballet class and dance recitals?  "I would absolutely use these for a dance class or even barre. They just fit the theme well," said Brooklyn College senior Lindsay Brooks. You says you can't be cute and functional during a dance workout?
Nothing screams attention like neon. If you like the extra attention when working out, especially if you dance your socks off, then pick leggings with a little extra flair. Wear them to show off how strong you are when lifting weights. Or shine brightly while you're rushing to class late so students know to move out of your way. The anti-sweat fabric also helps for hotter days in the gym or for jogging on hotter summer days.
Skip a lazy popcorn and movies sesh of a Guardians of Galaxy movie, and head to the gym with a galaxy-printed design. You'll look out of this world with them. These cropped, leggings work great for any outdoor workouts in the summer or warmer days in the spring. Beyond that, outside yoga and running along the pier are the perfect occasions to rock these. If you're going for a late night run, you'll match the sky. What's cooler than that?
Working out shouldn't make you feel that you need to also change your style. If you have a classic or athletic look, zipper leggings give you the best of both worlds. The zipper at the ankles allow for you to create a cropped look and the mesh along the side of the legs keeps you on trend and cool. "I like these because they allow for greater flexibility and they're able to keep you both cool and warm depending on the season," said Trinity College junior Maddy Kirton. With something so versatile, you don't have to struggle while working out.
Everyone wants to feel like Wonder Woman or Supergirl. Your new workout BFF will make you look and feel like the superhero you are. Whether you want to hit the weights or do intense cardio, the material will keep you cool while you kill it during your workout. The red patterns throughout and the seams create a butt lifting effect so you look good while feeling good. Now if only you had superpowers so you can fly instead of run to your classes…
There is nothing wrong with being #basic. Although trends come and go, your staples are simple enough that you can use them for years to come. Since they come in every color under the sun, they allow for you to express your own personal style while remaining cool and comfortable. You can never go wrong with investing in a few key pieces. One thing's for sure, you will never feel #basic with all the workout outfits you can create.
Updated by Tiara Desire-Brisard on June 30, 2017 to include leggings 11-21.