Ever felt like getting rid of all that useless junk in your room? That's where college comes in. Packing for that prison cell sized dorm basically forces to downsize. You don't actually need to get rid of anything, but you do need to leave it at home. Go through your things and decide what belongs in your adult life and what doesn't, and if you ever miss it, you'll find it right where you left it in your childhood bedroom. Do yourself a favor and leave these at home. We promise you'll barely remember they existed.
1. Every book you own
Back in freshman year, I made a huge mistake: I packed an insane amount of books. A huge box of novels that I never read sat in my dorm. In high school I read quite a bit, but freshman year particularly doesn't leave much time for extra reading. Plus, where did I expect to store those stacks of books? Since then, I bring a few of my favorites, or books from past classes that I might reference. I also bring my Kindle in case I want to read something new so I don't take up unnecessary space in my shoebox of a room.
2. Musical instruments you haven't played in years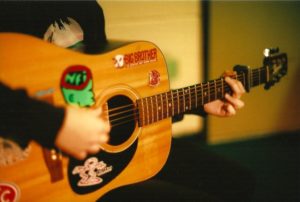 Leave your old guitar at home. Freshmen often make the mistake of thinking they will take up an old hobby in college. I promise you, if you didn't play it at home, you will not play it at school. If you plan on joining band or if you play a lot at home, then go for it. But that picture in your head of the campfire circle of new friends singing along to "Wonderwall" isn't realistic unless you live in a version of Pitch Perfect. But not to worry—you'll find a million and one ways to meet new friends.
3. Furniture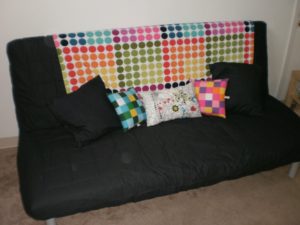 Dorm rooms are very small. I mean really, really small. If you expect that you can fit your whole living room and two beds and two desks into a glorified walk-in closet, you'll fail. Your parents will need to grumpily lug their old couch home. That said, futons are made to fit into dorm rooms and can add a homey feel to your new room. Comfy chairs and ottomans with storage space will work great, and double as a nice place to study or watch TV while adding some storage space into your tiny closet of a room. It might take some creative energy and the dreaded bunk beds, but a futon can turn your room into the floor's hang out room.
4. Anything your roommate already owns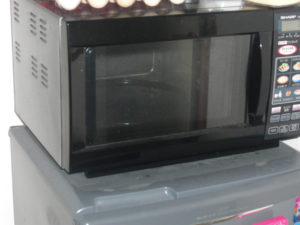 Talk to your roommate before you move into your dorm. If she owns a futon, leave yours at home. If she has a fridge, you won't need two no matter how much you think you can eat. Move in day will feel a thousand times less stressful if you come in with some idea of what you plan on doing with your room space. Making sure you don't bring two of everything. You'll save space and time in the long run. Plus, you won't trip over two vacuum cleaners or microwaves.
5. The family jewels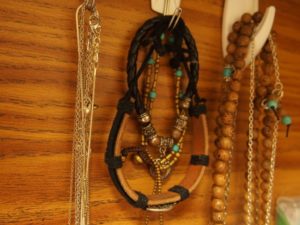 Dorm rooms do not come with a safe. And at some point, you or your roomie will forgot to lock the door, leaving your room open to anyone who manages to get inside of your building. Do you want to risk losing grandma's pearls or your diamond studs? No matter how fancy they make you feel, your valuable jewelry should stay at home. I guarantee you won't wear them out on the town, and if you do you'll probably lose them to the dirty bar floor.
6. A few thousand shoes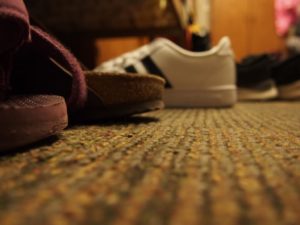 Who doesn't love shoes? My freshman year, I brought every pair of shoes I own and so did my roommate. Turns out, we wore the same size and ended up borrowing each other's shoes more than wearing our own. Plus, I think I wore the same three pairs of my own shoes all year. You won't have enough room in your closet or under your bed or anywhere else to store all of your shoes. Do yourself a favor and only bring the shoes you will actually wear. Yes, that means leaving those gorgeous stilettos at home. Face it—will you actually wear them to class?
7. Kitchen appliances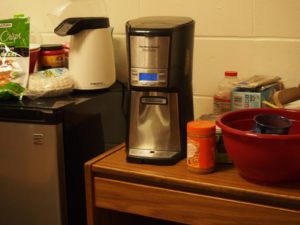 Microwaves and mini fridges are the bread and butter of college life. How else will you make your pizza rolls? What you don't need? A blender, rice cooker and every pot and pan in your parents' kitchen. For one, they will not be happy when they look in the cabinets. Second, you'll never use them. You'll have the dining hall for that. For the mornings when you're too unmotivated (or hungover) to leave your room, turn to your trusty microwave.
8. Your parent's Netflix password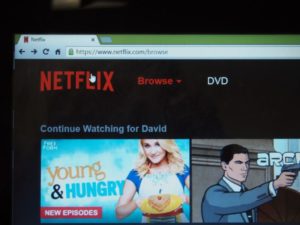 Okay, Netflix is the most amazing invention in the 21st century—but also a huge distraction. Freshman year and the three years after it mean a lot of homework, panicking and late-night study sessions. Netflix will only get in the way of homework and social life. What to bring instead? Old DVDs. Yep, I mean those circular things from your childhood collecting dust on the cabinet in your basement. This way if you really want to watch TV, you've got to work for it. Plus movie night is a great way to make friends on your floor.
9. Thumb tacks and Duct tape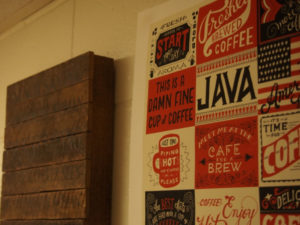 Colorful poster can definitely make your jail cell—I mean dorm room—less depressing. Unfortunately, your RA will tell you that you cannot damage your dorm walls or furniture. Hanging up your posters with duct tape or thumb tacks will leave you with a nice fine at the end of the year. Instead, use 3M command hooks or poster putty to leave the paint on your walls and the money in your pocket.
10. Your high school friends

Yeah okay, definitely don't literally pack your friends. That's just weird. But in all seriousness, don't carry your high school drama with you to college. This might mean picking a different college than your best friend or just making sure to make new ones. College is a big step forward and where you really start to call yourself an adult. Worrying that your friend still feels upset about the time you texted her ex in ninth grade will leave a stain on your college experience. So leave the drama at home—you'll face plenty of it in the next several years.