Want to escape the city but not go completely off the grid? The Jersey Shore may be the perfect spot for you. Peaceful, serene days on the beach and boardwalk followed by an aesthetic night life of sunsets and ice cream sounds like the perfect getaway from reality. Despite COVID-19, the Jersey Shore can still prove to be a pretty magical place. Adhere to social distancing, wear your mask and soak up all it has to offer you this summer. With all of the things to do, you're in for the summer of your life. 
Continue reading to find out exactly how to make your Jersey Shore summer the most amazing one yet!
1. Atlantic City
In need of getaway? Take a trip to A.C. Hit the slots if you're over 21 and have some fun—maybe you'll win some money while doing it! Aside from the casinos, Atlantic City homes  many family friendly fun activities, some of which include the Absecon Lighthouse, Atlantic City Aquarium, boardwalks, beaches, restaurants and cannot forget Lucy the Elephant! 
"I frequent Atlantic City often with my friends. There is always something to do, gambling drinking, dancing as well as great restaurants, especially at the Borgata. My favorite memory is when I won $1,000 on my lucky number!" College of Staten Island senior Ava Niosi said.
Of course, some of these activities require you to be 21. Nevertheless, even prior to hitting that digit, endless options for fun arise in A.C.
2. Take A Trip to Cape May
Feel like taking a drive and visiting some ghosts? Be sure to check out Cape May. This historically rich town leaves so much to be desired that even the spirits don't want to leave.  Dozens of Victorian gems got investigated and documented to host "spirit" residents, all of whom maintain a reputation for being quite friendly. Take a ghost tour, learn some history and see if you can spot any spirits lurking about! Located at Exit 0 in New Jersey, this little beach town makes for the perfect summer getaway. Looking for an adventure? Climb to the top of the Cape May Lighthouse. More than 2.5 million visitors climbed the lighthouse since it opened to the public in 1988. 
"Cape May is such a quaint little town with cute shops. My favorite thing to do is to go down to the square and browse in the little stores and then get ice cream at Kohr's brothers ice cream. I have been going there since I was little, I'd say my favorite memory is picking up breakfast and bike riding to the beach to spend the day in the sun," College of Staten Island-Macaulay Honors College sophomore Larissa Guida said. 
This destination definitely makes itself worth the journey. The architecture and the history alone make me swoon with joy. Ever wanted to visit the fictional towns of Stars Hollow or Rosewood? Cape May will definitely deliver those small-town cozy vibes!
3. Seaside Heights Boardwalk
Arcades, rides and games galore! What's not to love? If you find yourself in need of some fun, plan a night at the Seaside Boardwalk with your friends. Need a recharge after all of the excitement? Sit and grab a funnel cake or some deep fried Oreos and relax with your pals. Years from now when you take your own kids to the shore, you'll reminisce about the awesome times you spent there. 
4. Visit Jersey Shore MTV House
Formerly called home by the cast of MTV's hit TV show Jersey Shore, the infamous house can now be rented out. From the iconic green, white and red garage door to the wooden rustic interior, you will feel as though you jumped through your television screen and teleported there. In need of a wild night? Grab a small group of friends and throw a socially distanced party in the yard just like the gang would—without anyone violating the guidelines.
5. Wildwood
Deep into the depths of New Jersey, you will find Wildwood and Wildwood Crest, and one might say the hidden gems of New Jersey. Perfect for people of all ages as Wildwood Crest maintains itself as a dry area in which no alcohol can be purchased. A family friendly environment with an outstanding day scene as well as nightlife, makes for a versatile place with countless things to do and enjoy. 
"I've been going down the shore since I was a baby. My grandparents have a house down in Wildwood Crest, NJ where all my summers were spent as a kid and even until this day. There's so much to do during the day as well as at night. There's a boardwalk that has different piers with rides for different age groups, there's arcades, and so many restaurants and ice cream parlors to eat at. My favorite place to eat is called Duffers. It's a restaurant that serves breakfast, lunch and dinner, but is known for their ice cream. They have every flavor you can think of with an endless amount of toppings. I look forward to going down to wildwood every weekend because it's my home away from home," St. John's University junior Rosalia Abitino said.
Wildwood marks itself as the perfect place for a vacation or summer home. I can smell the fresh saltwater taffy and hear the warning of the iconic Wildwood tramcar by just simply closing my eyes. 
6. Jersey Shore Alpacas
Consider yourself an animal lover? Spend some quality time with the alpacas of New Jersey! If looking for something cheap, interesting and fun look no further than the NJ Alpacas. This COVID-safe activity supports a local NJ business as well as the alpacas. Scheduling a personal tour will allow for you to feed and touch the alpacas, and after you finish, head on over to the gift shop for some neat finds! 
7. No Shortage of Great Restaurants
No secret that the Jersey Shore contains some of the best eateries imaginable. People from neighboring states and towns constantly take the drive to get some incredible food. Hardly anything beats dinner with a view, especially when the lights shine and nautical vibes echo throughout a ton of these restaurants. 
"Since I could remember my parents have been taking my brother and I to Long Beach Island, New Jersey. Every time I was just as excited as the last to visit my favorite dinner spot, Mud City Crab House. We'd always get the garlic crabs and they are to die for. The sauce is amazing. I am so looking forward to this summer in Long Beach Island to enjoy my family, friends and some crabs from Mud City Crab House!" Seton Hall University senior Lauren Turco said. 
Mud City Crab House is just one among the many spectacular restaurants you will find along the Jersey Shore. So head on over there for some yummy garlic crabs, Coney Waffle to satisfy your sweet tooth or Avenue Le Club for a chic French brunch. No matter your food preferences or diet, the Jersey Shore almost guarantees that you will find your new favorite spot. 
8. Pier Village Shopping Experience
In desperate need of a girl's day? Look no further than Pier Village. Located right next to the beautiful beach of Long Branch, you and your girls can indulge yourselves with the most picture-perfect day. Nothing beats spending the entire day at the beach, grabbing some food and shopping until you drop! Pier Village: the one-stop-shop that provides everything you could want.
"I love to go to Pier Village, not just for the beach, but also for the food and the shopping. The little circle of stores by the boardwalk has everything. There are restaurants, one of my favorites being Stewart's because it has that vintage diner look. There's also a bunch of shops. one of the boutiques I love is Molly and Zoey. They have all the cutest trendy clothes and it's so perfect for summer! If you ever need you can go there to grab a sun hat, sunscreen or beach day essential before you head down to the sand," St. John's University sophomore Amanda Montanino said.
The outdoor shops and places to eat provide the perfect break from the salt and the sand. From morning activities to night activities, Pier Village has you covered.
9. Long Beach Island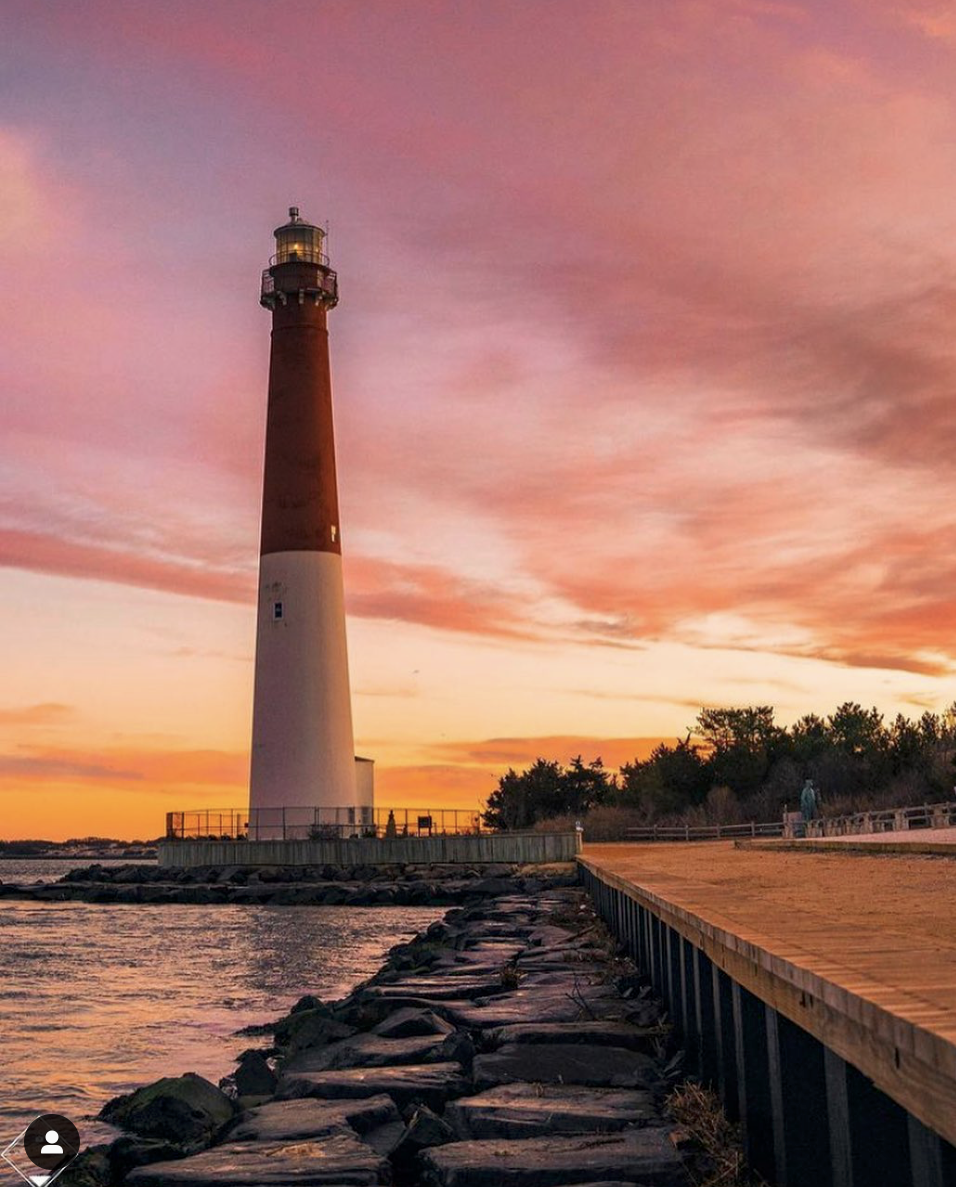 Long Beach Island, also known as the place you will want to be this summer. The immaculate beaches and reputation of summertime fun will appeal to almost everyone. Whenever I picture it, I see pastel-colored bicycles adorned with baskets and bells, as well as dozens of summertime florals and friendly faces that I know would be smiling underneath their masks. The perfect spot to spend sunny days with a refreshing drink in one hand and a book in the other, just soaking up the sun. 
"I love LBI because it is so quiet and peaceful and there are two sides: the bay side or the beach side. There are so many cute little places to eat and places to shop. The Chicken or the Egg is a great breakfast place. Fantasy Island is fun to go to at night and go on the rides and then walk over to Ben and Jerry's and get ice cream or during the day to go to all the little shops," St. Francis sophomore Carina Laudicina said.
Some might compare a day in LBI to a little slice of heaven. Peaceful and calm yet buzzing with excitement. 
10. Red Bank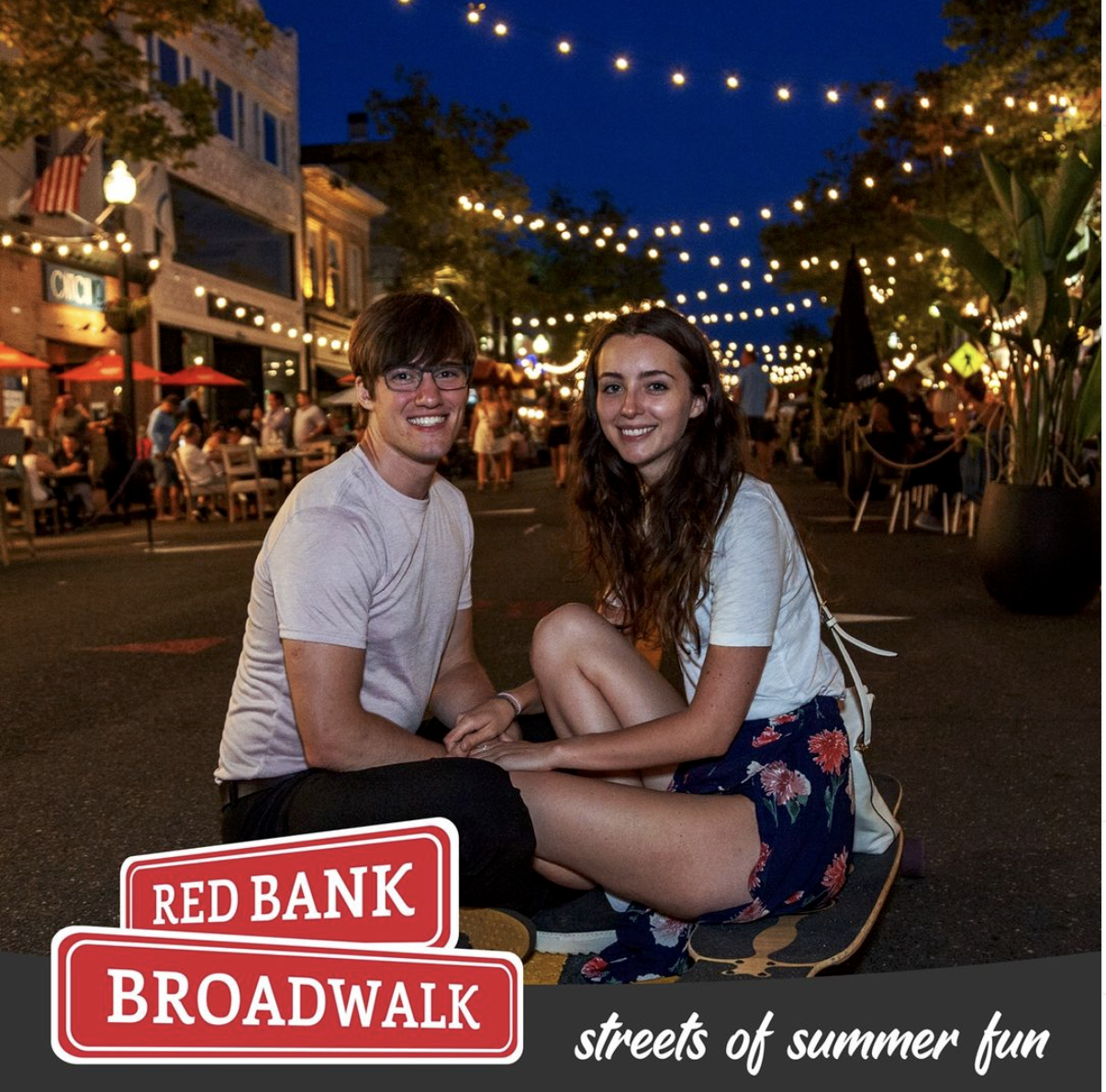 Craving a night out on the town? Red Bank will be your new go-to! This area of NJ rose fame as a hotspot for the arts and entertainment with theaters, eateries, as well as trendy boutiques and galleries. It provides a beautiful view of the Navesink River, historic buildings and streets and a restaurant to satisfy almost any craving. All of the appeal of a big city though the area is only about 2.2 miles long. Small enough to seem quaint and scenic, though large enough to explore and enjoy. 
"It has a fun downtown vibe and there's plenty of shops to go to. It's also on the river so there's a riverside park where you can see pretty sunsets. My favorite restaurants are Front St. Trattoria which has great pizza and Muang Thai which has my favorite Pad Thai," Rutgers University sophomore AJ Fazzina said.
Nothing beats a summer sunset with good friends, good music and some good food. A chill, laid back summer night makes for the perfect way to destress, reflect and enjoy all life offers.