Boston. Home of baked beans, Fenway Park, the Boston Celtics and some of the best clam chowder you'll ever taste. Whether you're a local or a tourist, this magnificent city exists with tons to offer. With COVID-19 still on the horizon, though, it's been a lot harder to enjoy the city in all of its glory. Luckily, there's lots of fun activities you can do in Boston while staying safe.
Check out the top 10 things to do in Boston while keeping COVID-19 safe!
1. Picnic At One Of Boston's Beautiful Parks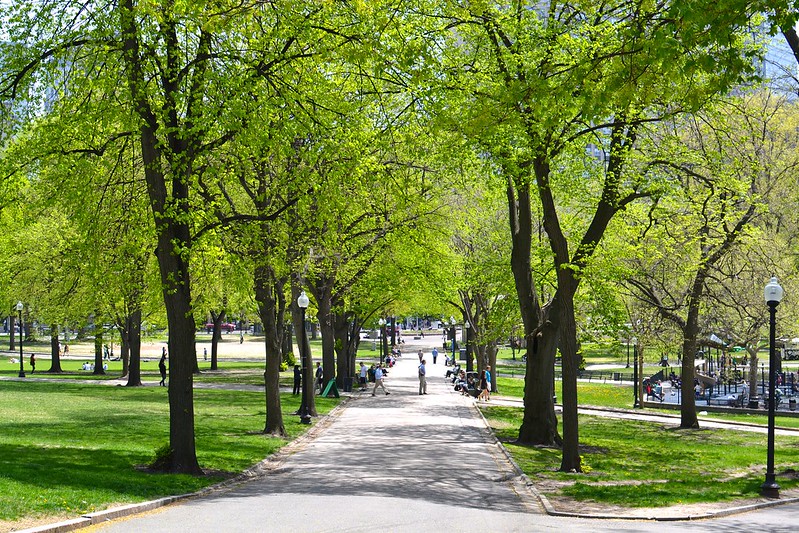 Lots of university students living in Boston struggled to find new ways to hang out with their friends during the pandemic. One popular idea sprouted amongst the brainstorming: going on a picnic! Boston boasts a variety of public parks with lush green grass, perfect for sitting on while you eat a tasty meal with good company.
"During the pandemic, my friends and I would cook separately and bring some meals to a picnic and hang out socially distanced," Northeastern University 2021 graduate Artie Ghosh said. "We spent a lot of time visiting the parks in Boston and around."
If you're not particularly talented in the kitchen, don't worry. There's plenty of restaurants in Boston that offer curbside pickup or takeout. Grab a delicious box of cannolis from Mike's Pastry, then head on over to one of those scenic Boston parks for a picnic with friends.
2. Check Out The Freedom Trail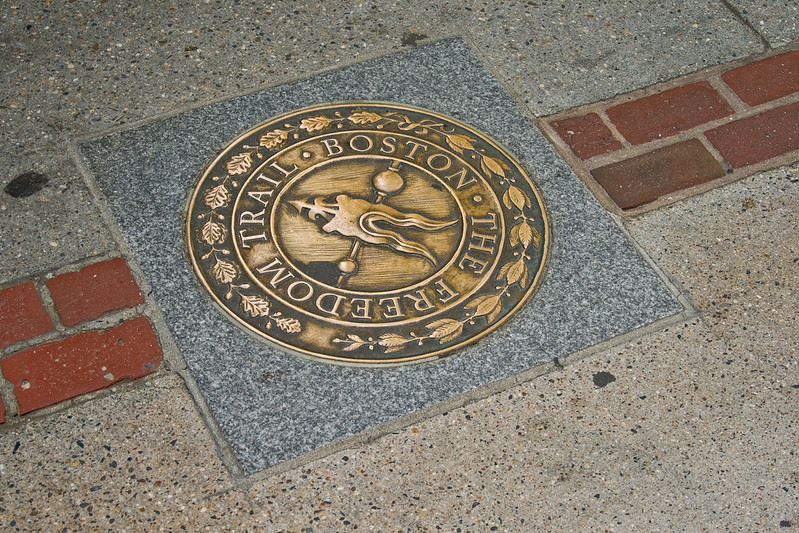 If you're looking for something a little more active than having a picnic, the Boston Freedom Trail serves as a fascinating, historical activity that you can do while social distancing. The Freedom Trail includes a 2.5 mile red-brick trail that leads you through the most historical locations in Boston. While taking you from Old North Church to Faneuil Hall, the Freedom Trail teaches you all about the American Revolution while letting you stand in all the same places colonials stood in hundreds of years ago.
Throw on a mask while you take a walk down the Freedom Trail if you're tired of sitting at home all day. Feel free to also bring your dog along for some company on this pet-friendly trail. You don't need to go into all the houses that the Freedom Trail takes you past, but lots of people recommend stopping at the Paul Revere House alongside Old North Church. These two buildings reside in North End which also houses a myriad of restaurants. The Freedom Trail lets you explore the city while learning all about its rich history.
3. Enjoy A Rooftop Sunset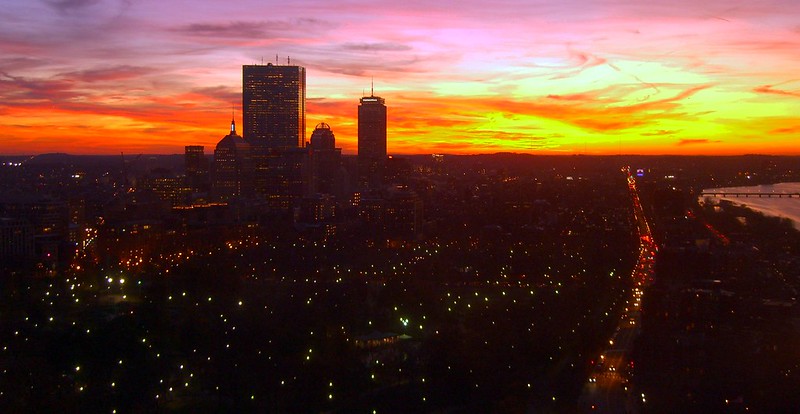 Boston houses a lot of wonderful different attractions. However, the Boston skyline usually gets overlooked while being one of the most beautiful parts of the city. While many people worried about avoiding the crowded Boston streets during COVID-19, lots of people took to the rooftops instead!
"One activity I did in the city that I thought was fun and safe was going to rooftops to watch the sunrise and sunset with my friends," Northeastern sophomore Christina Wu said. "It required no additional materials and we got lots of great pictures."
To get away from the hustle of the city, rooftop venues serve as great places to enjoy the sunset. You still get to experience the busy Boston atmosphere while gaining a moment of peace. If you don't like picnics in the park, picnicking on a rooftop might be a better alternative for you. Gather your friends along with some good food before settling in for a beautiful sunset on the Boston skyline.
4. Take A Trip to The Museum of Fine Arts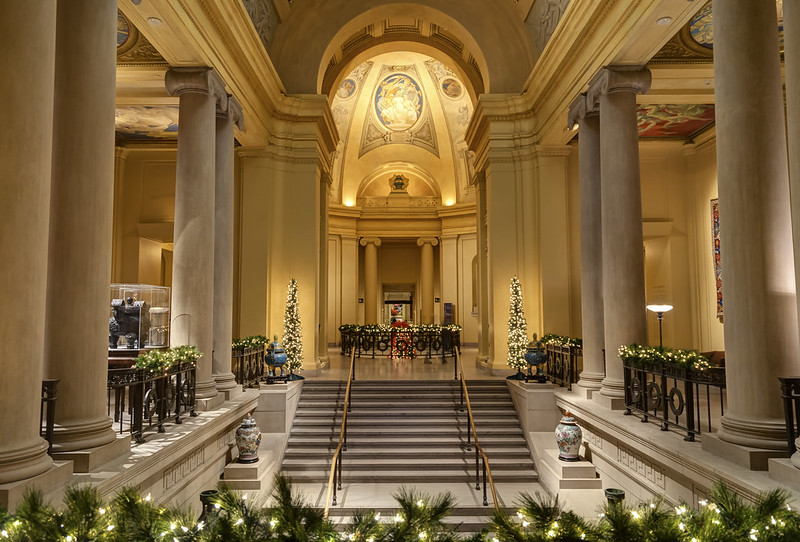 Boston isn't called the "Athens of America" for no reason. If you're an art lover, the Museum of Fine Arts will fascinate you. The museum contains over 100 galleries of art. You can visit the museum if you make sure to follow the mask policy set in place. Once you're there you'll get to see ancient Egyptian sculptures, artifacts from various Chinese dynasties, art from Ancient Greece, along with so much more. The museum also contains many exhibitions.
If you get tired of seeing all the art (that probably won't happen) you can always sign up for one of the many programs that the Museum of Fine Arts offers. You can take studio art classes, listen to lectures, take courses or even watch an art demonstration from a professional. The museum no longer requires masks, but they definitely still sanitize the museum regularly alongside appreciating visitors who do mask up. So, enough waiting around! Grab some friends, put on your mask then go explore the arts!
5. Walk Down the Charles Esplanade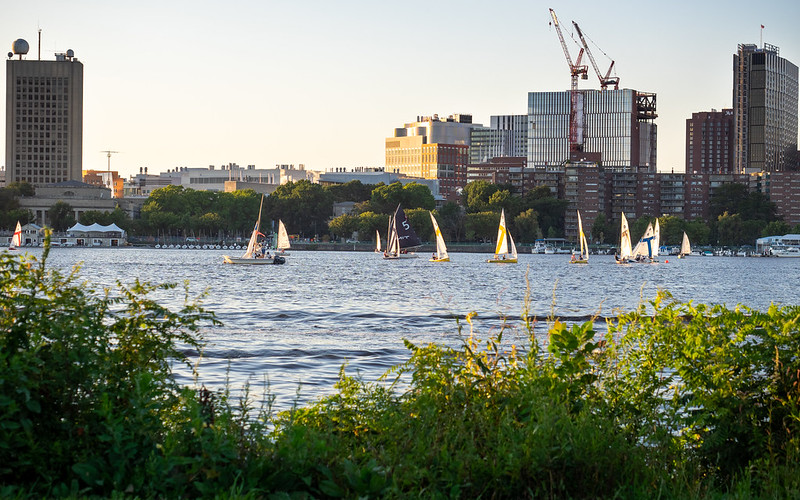 The Charles Esplanade provides an incredibly popular spot for students alongside Boston locals, especially during the suffocating times of COVID-19. The beautiful Charles Esplanade stretches for three miles down the Boston side of the Charles River. The esplanade boasts a gorgeous natural landscape where visitors can picnic, bike, walk, or run. The park also contains the iconic Boston Hatch Memorial Shell where organizations occasionally put on performances.
"I think what saved me during the pandemic was the Charles Esplanade," Boston University junior Natalia Karadimitriou said. "My friends and I would get together on picnic blankets to watch the sunset, read books, have lunch, and simply enjoy each other's company with the precious moments outside. Even when it snowed we would trek out to make snowmen or walk around."
Many students agree that the Charles Esplanade provides a relaxing spot to study or simply hang out with friends. The tranquil atmosphere brings a whole new sense of peace, especially during the trying times of the pandemic.
"It's a wonderful place to spend an afternoon, especially in the fall," Northeastern University graduate Shriya Srinivas said. "I would take my camera or a book and spend a few hours there. It's super peaceful."
The next time you get a chance, take a relaxing walk down the Charles Esplanade so you can get a taste of what everyone's raving about! Bring a friend or go alone—either way you're guaranteed a good time.
6. Explore Seaport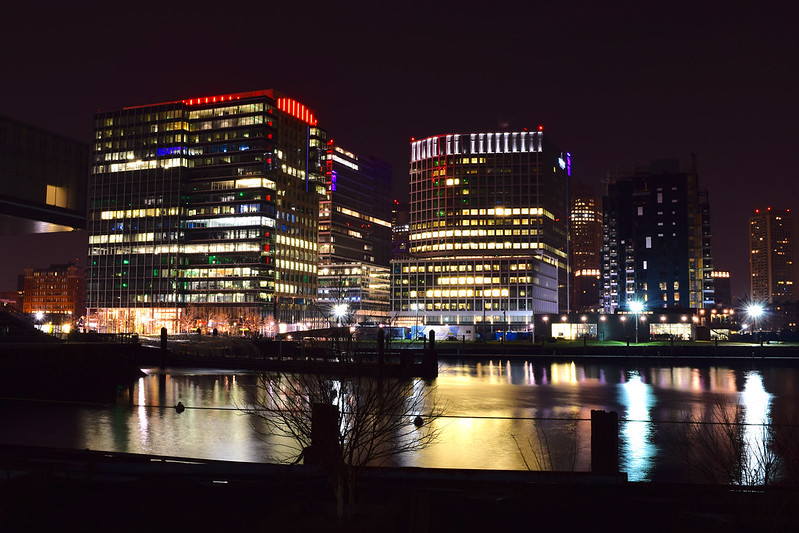 Quickly gaining a reputation for one of the hippest hoods in Boston, the Seaport neighborhood boasts a whole host of snazzy attractions. Seaport provides a perfect place to hang out if you're looking for something refreshing after a year of staying inside.
The Seaport district boats lots of COVID-19 safe activities that you can engage in. If you're hungry, try out the fresh, local seafood. In a place called Seaport, you're bound to eat some of the tastiest seafood you'll ever have. If you're feeling something more engaging, you can also enjoy some games at the Lawn on D where they host performances along with drinks. Seaport also houses tons of entertainment venues including Kings and the Showplace Icon Theatre.
"My friends and I went to Kings to go bowling and it was such a fun experience," Boston College junior Jennifer Wu said. "You could rent your own lanes and stay separate from other people. When we were done with our game, we went down to their arcade and played some pool, too."
All unvaccinated guests are required to wear masks at Kings. Even if you are vaccinated, they would appreciate if you still wore one. They also have extra masks if you need one. Whatever you decide to do in Seaport, I can guarantee you you'll enjoy yourself while also being COVID-19 safe. If you like hanging out by the harbor, grab some friends so you can book a night on the water.
7. Find A Scenic Bostonian Sight and Schedule a Painting Night
While the city itself boasts hundreds of things to do, COVID-19 makes it difficult to even set foot outside your dorm or apartment sometimes. However, lots of students came up with creative ways to stay busy. If you visited the Museum of Fine Arts already, you might've decided to try your hand at some relaxing painting. A lot of students read your mind. Boston has tons of scenic locations to paint, so head out to Copley Square, the Prudential Observatory, or the public gardens. All of these places have fantastic views. Snap a picture to reference while you channel your inner artist.
"Our painting nights were usually me and two of my roommates along with three of our other friends," Northeastern University senior Swaroop Jay said. "Northeastern requires us to be tested every 2-3 days and they had set up a really efficient testing center on campus that would provide results within a day. When planning the painting nights, we would make sure that everyone had tested negative and was consistently being tested to reduce risk."
Painting nights provide a great way to wind down after a long day of sitting at your computer or working from home. Stretch your brain's creative muscles while you try to recreate the beautiful Boston skyline on canvas. You don't need any artistic ability to have a painting night. Break out your brushes so you can have some fun. Who knows, maybe one of your paintings will end up in the Museum of Fine Arts.
8. Take A Walk Down Newbury Street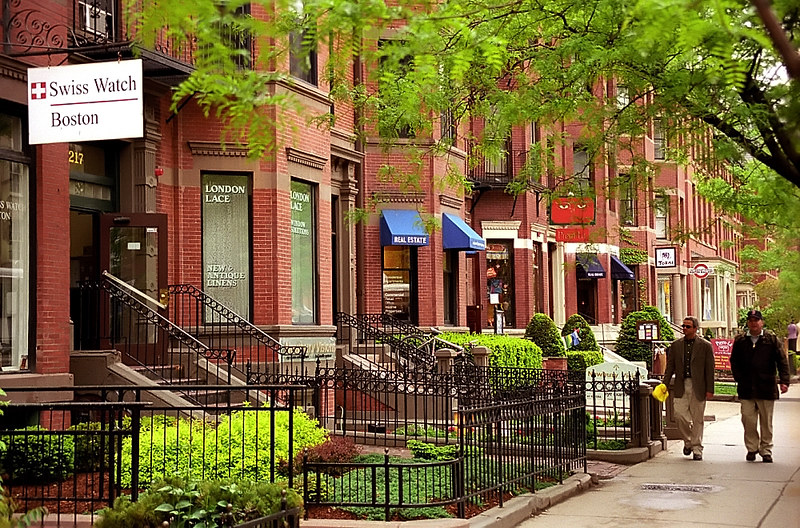 The pandemic stripped everyone of the most integral part of living in a city. The food! The restaurants! The culture! Living in Boston means you get to experience amazing cuisine wherever you go, but unfortunately the pandemic put a cork in that plan. Luckily, Newbury Street opened back up for business this year. It's a good thing, too, because you can't visit Boston without taking a trip down Newbury Street.
Newbury Street—Boston's lively commercial entertainment district located in the Back Bay neighborhood of Boston. Newbury Street hosts some of the best restaurants, boutiques, and shops in the entire city. There you'll find vivid brownstone buildings housing delicious food, refreshing drinks and fantastic eateries. Alongside the dining, the boutiques on Newbury Street give it a reputation for being one of the most expensive streets in the world.
Some of the more specific attractions of the street include Nike Boston, the Boston Olive Oil Company, Newbury Comics and Copley Square. At Nike you'll find out just how much this city loves the Boston Marathon with an entire floor dedicated to running gear. The Boston Olive Oil Company offers over 50 varieties of olive oil to taste—they infuse some oils with things like mushroom or sage! MIT students founded the original Newbury Comics right on this road, so if you're a comic book nerd it's a must-see store. Many of these establishments require masks so explore safely while you're there. If you're unvaccinated, you will be required to wear a mask inside all of the stores alongside the restaurants. Even if you are vaccinated, pack some extra masks just in case.
9. Check Out The Franklin Park Zoo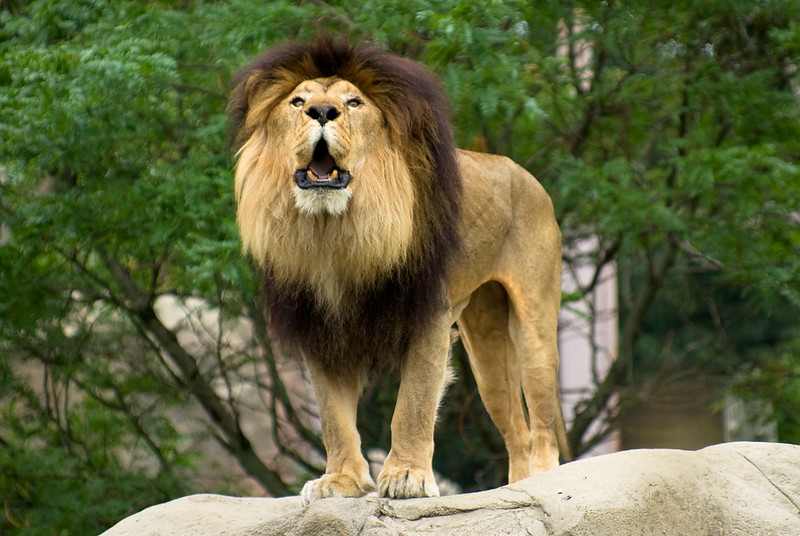 How long has it been since you've seen any cool animals in person? The zoo continues to captivate animal lovers of all ages. Ever since the pandemic started to clear out, the Franklin Park Zoo reopened for business again. However, it's still important to stay safe during these tentative times, so the zoo offers admission to guests who specifically reserved time slots. The zoo also limits capacity in order to allow for social distancing.
Once you're all set, though, take a break from the pandemic stress at the zoo. You'll see numerous different animals while following the guided tours. Seeing an adorable baby bear eagerly come over to say hi to you from behind protected glass could lift anyone's spirits. The zoo also offers behind-the-scenes tours where you can see the zoo from an entirely new point of view. You'll get to meet sloths while seeing fennec foxes up close. If you're lucky, you may even get to feed one of them.
If you love animals, you must visit the Franklin Park Zoo. Take a break from studying or working to come say hello to the animals at the zoo. The playful atmosphere will keep you entertained for hours.
10. Visit the Boston Commons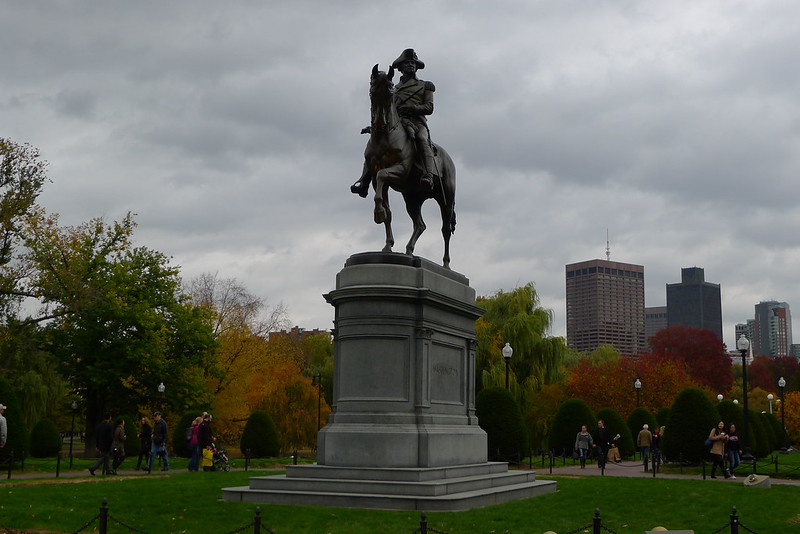 Last but not least, the Boston Commons gave refuge to plenty of pandemic worn college students throughout the entirety of 2020. The Commons stretches for 50-acres, while boasting its reputation of being the oldest public recreation area in the country. The park hosts a series of open greenways that weave through statues of important historical figures. Public gatherings usually occur often in the Common, but the pandemic made it a rare sight to see nowadays. Still, that doesn't mean you can't spend a relaxing day at the Commons sunbathing by the Charles River.
"For one of my friend's birthdays, we all ordered pizza, brought picnic blankets and a speaker to the Commons and had a little picnic," Northeastern University junior Katie Nikolov said. "We sat there for a few hours and watched the sunset. It was super fun and a good way to be around more people than usual."
The Boston Commons easily takes the cake for Boston's most famous park. It's known for its lush flowers in the spring, historical significance from the Freedom Trail, alongside lovely views of the Duck Tours that pass by on the Charles River. During the pandemic, the Commons spiked in popularity, so give it a shot if you're looking for a vibrant yet safe place to hang out.