What does Spartan pride mean to you? As you embark on your next four years at Michigan State University there's one thing you must know: Spartans Will. They will what exactly? Spartans go above and beyond to achieve their goals and spread their MSU pride to anyone who will listen. This awesomely diverse community of students takes pride in the events and traditions that make their university stand out above the rest. Consider these student events only a snapshot of the dozens of ways that you can thrive during your MSU years.
Pro Tip: Did you know that Michigan State ranked #2 for scooter friendly campuses? Travel in style to your favorite MSU events on the ultimate college scooter, the Wolf RX-50.
Check out the 10 MSU events every student should go to as an undergrad.
1. Painting the Rock
Every MSU org gets a night to venture to The Rock and decorate it to represent their group. Painting becomes a rite of passage for students, later returning to The Rock in daylight to admire their artistic skills. It's also a bonding experience for the members as they spend the night completely covering an enormous rock in org pride. When it isn't covered in an organization's paintings, you'll often see The Rock painted with the MSU slogan: Spartans Will. "Spartans exhibit sacrifice and consistency to work for what they want in life," said senior Lamont Davis. "We have a vision and take action and execute, that is what separates us from other schools; this is how you get 'Spartans Will.'" Whether you're living out a rebellious dream or spreading MSU pride, this tradition will never cease to spark nostalgia.
2. The Midnight Scream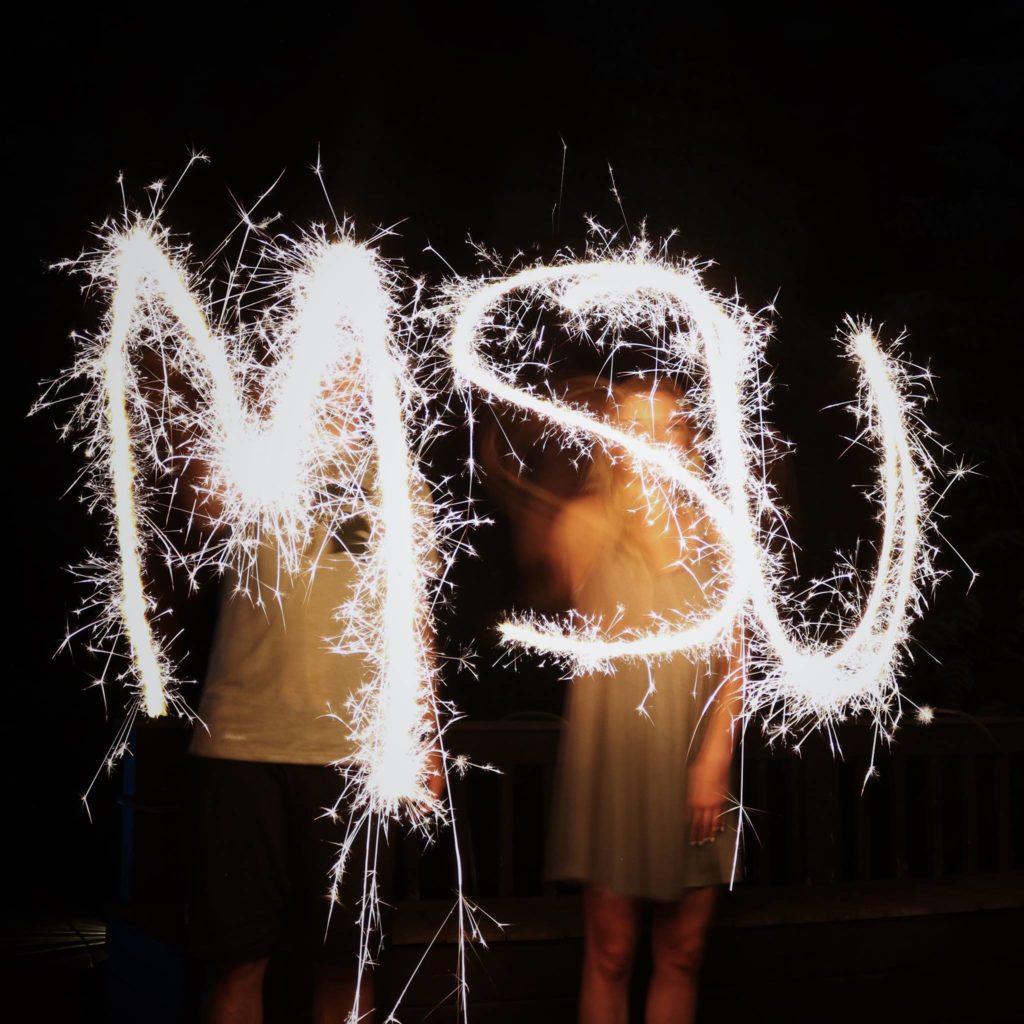 Have you ever studied for your exams late into the night and felt the overwhelming urge to release a blood-curdling scream out your dorm window? Well at MSU, students gather together each night of finals week to express their pent-up stress in the form of a campus–wide scream at the stroke of midnight. Now if you went to literally any other university, this sudden burst of sound might incite panic and confused calls to campus security. So, for those not attending Michigan State University, I'd advise against practicing this tradition (no matter how amazing you'll feel afterward). The Midnight Scream enacts a sense of community. The Spartans stand as one to release their finals week anxiety and rage to the moon.
3. Spartython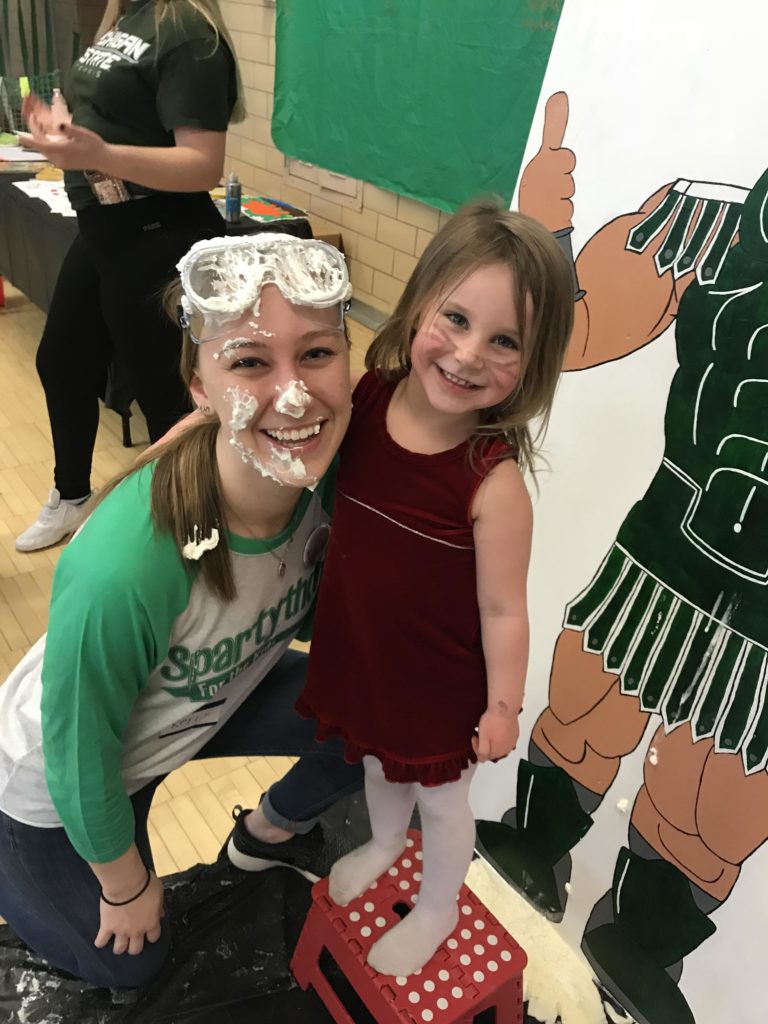 Don't forget to stretch your calves before you drop it low for a great cause. As a part of the nationwide organization Dance Marathon, Spartython is unique because its proceeds go towards Sparrow Children's Center (their local Children's Miracle Network Hospital) and the Cassie Hines Shoe Cancer Foundation. Last year alone this fundraiser raised $30,000 in a single event. Participants dance nonstop for 10 hours straight. And Spartython offers games, food and interactions with the kids that the donations benefit. "The best part about Spartython is hearing the families share their stories and getting a first-hand glimpse of what the money we raise goes to," said Spartython President Keri Masserant. The next Spartython event takes place on Feb. 16. No need to waste any more time because registration is already open to students.
4. Spartan Remix
Take a day with your fellow students to connect and celebrate the thing that makes MSU stand out from the rest—you. On the first Thursday after Labor Day, Spartan Remix brings students together for an event that celebrates cultural diversity, both educational and celebratory. Featured organizations include the Council of Racial and Ethnic Students and the Council of Progressive Students. "Students here truly support one another and it's a great culture to have on campus. As students and young adults, we all go through tough times and transition periods, but I think the support and courage we all have is something that makes the MSU community special," said senior Lauren Lahie. As you walk through Spartan Remix, look out for booths and performances by the Black Student Alliance, the Asian Pacific American Student Organization, the North American Indigenous Student Organization, Culturas de las Razas Unidas and more.
5. Get a Photo with Sparty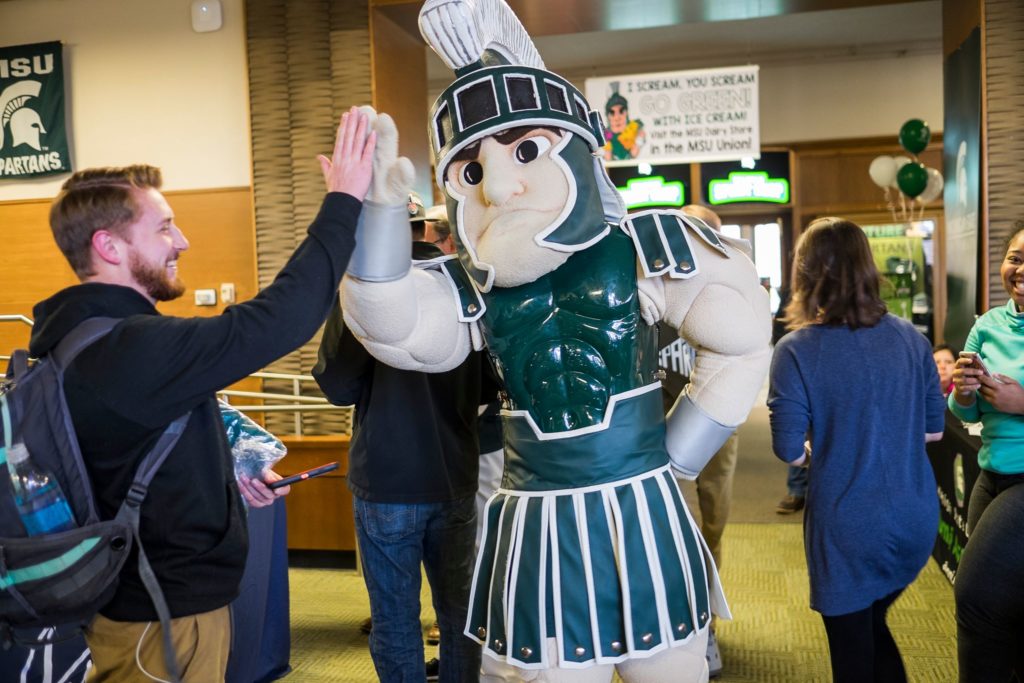 Did you actually attend MSU if you didn't get a great pic with the infamous Sparty? This mascot, a muscular male Spartan warrior wearing ancient Greek clothes, is seen all over campus at top MSU events. While it may be hard to catch a selfie with the master of hype on game day, this could give you the push you need to get more involved on campus so you can spot him walking through the crowd. Get your camera at the ready and pull your favorite pose for an awesome memory of your days at MSU. He may even appear at some of the events featured on this list… but you didn't hear that from me.
6. Sparticipation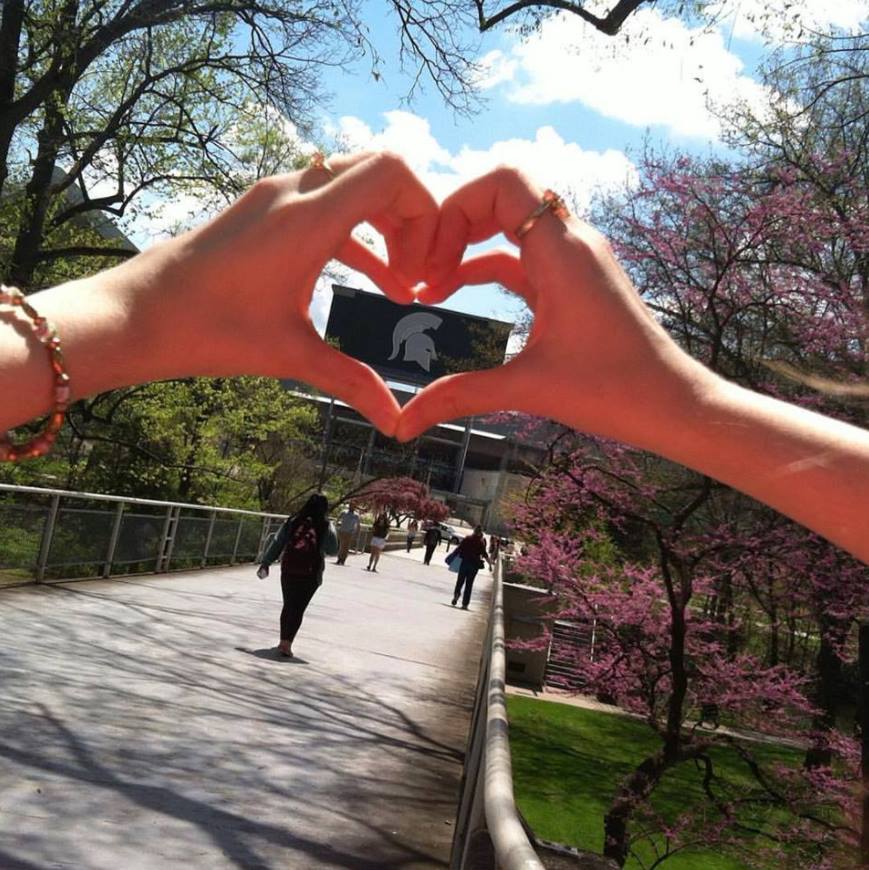 The time has come to step outside of your comfort zone (and your dorm room) to get involved on a campus that wants to know you. Sparticipation features over 900 student organizations and an insanely punny play on words. Students can explore all the booths that span the Cherry Lane Field. Take your time and find the perfect match for all your quirky interests. "When someone says MSU pride I think of comradery amongst all Spartans, near and far, keeping the traditions of MSU alive with enthusiasm and passion," said senior Talaya Bates. Get close to your Spartan family with pride while taking part in activities that allow your unique interests to shine. Whether you attend as a senior or as a freshman, you'll be welcomed with open arms.
Save time and cruise over to Sparticipation with a Wolf Scooter!
7. UFest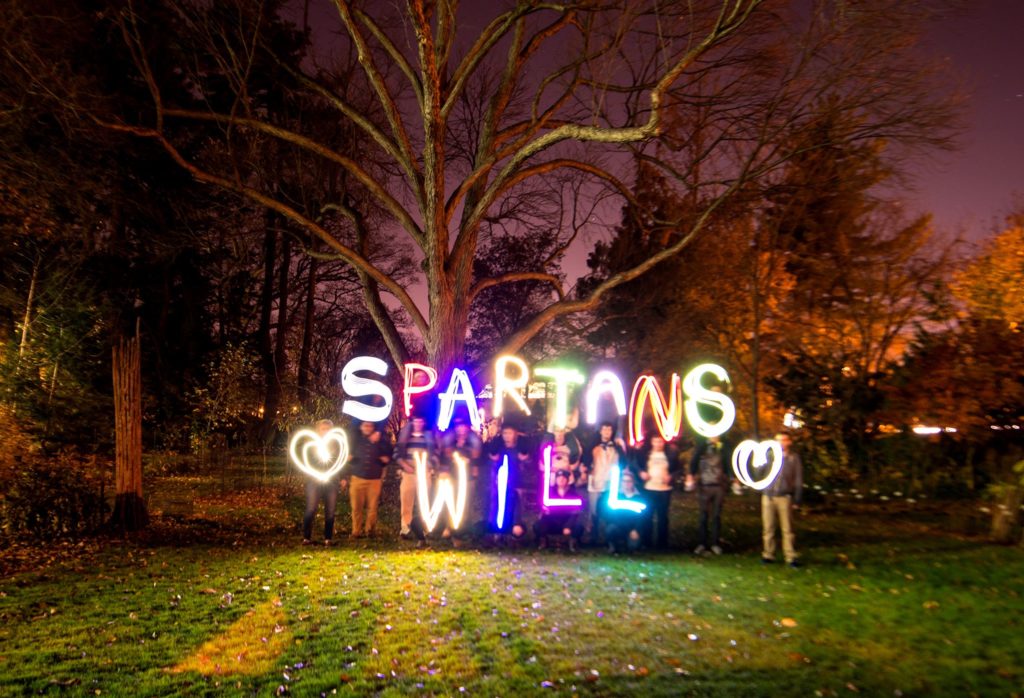 What better way to ring in a new year than an inflatable obstacle course, psychics and free food? Answer: You won't find anything better. Stop by UFest at the MSU Union and enjoy free food and drinks. UFest will bring out your inner kid with caricatures, a VR machine, bingo, henna and must I repeat the presence of the inflatable obstacle course? This event offers a great way to get students both old and new in the spirit for a fun filled year of college. I understand that the free samples from major companies like Insomnia Cookies, Kind Bar, Sparkling Ice and High Brew Coffee may be the only reason this event sparked your interest. But trust me, once you enter this major fan-fair, it'll be hard to simply snatch a snack and run for it.
8. Singing MSU Shadows
Clear your throats, break out the face paint and stand tall in the stadium to sing along to the MSU Shadows. "I went to my first football game as a freshman and none of my friends, myself included, knew MSU Shadows or any of the cheers for that matter. Someone next to us… helped us learn them for that day; we slowly but surely figured them all out," said Lahie. Become one with the sea of spirited Spartans and take the time to pass your knowledge onto the next generation. "Going into my last first game of the season I was able to teach my sister the cheers like that person taught me and it really made my time there come full circle," said Lahie. These Spartans prove that there is more to university pride than acing a class; it's about spreading your love to others.
9. Izzone Campout
Rain, shine or artic plunder, grab your sleeping bag and support a team that goes above and beyond to support you right back. Students, season-pass holders and featured guests of the men's basketball team and Coach Tom Izzo fill the field for a campout. "My freshman year at the Izzone Campout, I was shocked to hear Tom Izzo using a megaphone to tell us all to wake up and go home [the following morning]. The fact that he stays the night with us outside in a tent, no matter the weather, shows how much he values our student section," said senior Jessica Altenberger. The Izzone Campout took on record-setting numbers last year with nearly 1,000 tents covering Munn Field. Throughout the night, students hear from Coach Izzo talk and get pictures with the team. Some even crowd surf as they pump up the students for the upcoming season.
10. Homecoming Week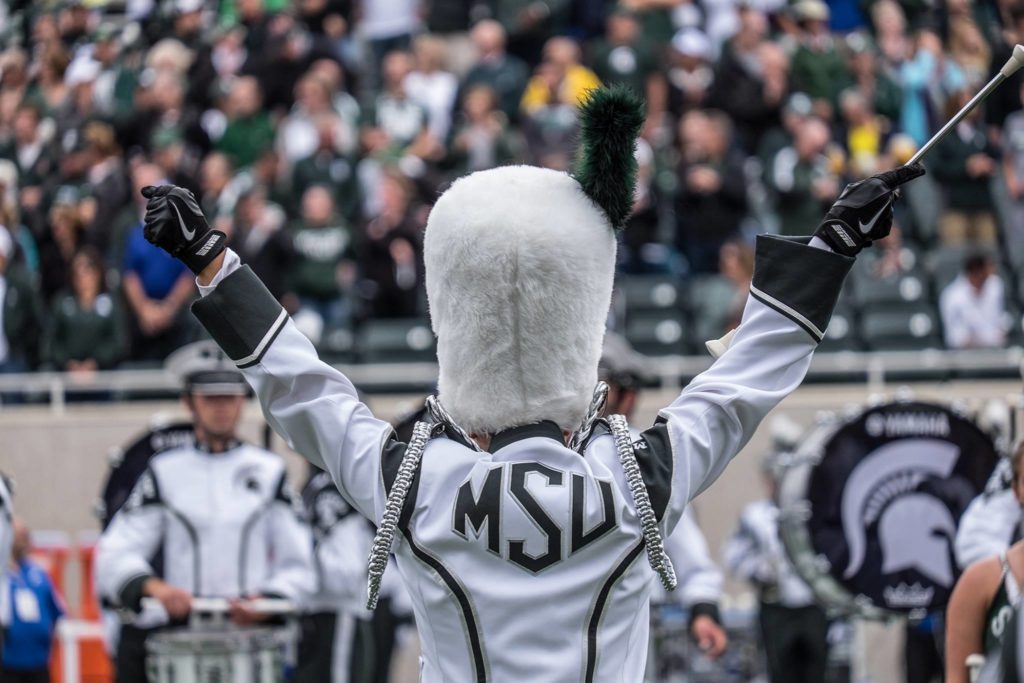 Bring it home with an entire week's worth of fun events, talks and food that'll get you into the Spartan spirit. Some events featured in the 2018 Homecoming Week line-up included Hayrides and History, Sounds of Homecoming, Ice Cream at The Rock, the MSU Homecoming Parade and, of course, the homecoming football game. Not only will this week leave you with new memories of your Spartan family, but you'll take away plenty of educational experiences as well. "My most memorable Spartan moment was being selected to serve on the 2018-2019 MSU Homecoming Court. This opportunity has helped me to speak at huge events and to many students about the importance of being a resource for others," said senior Malik Amir Mix. Take this week to become one with your inner Spartan and learn how you can spread your MSU pride beyond campus boundaries.
Wolf Scooters wants Spartans to have an affordable and awesome way to navigate campus with a stacked schedule. Never waste time looking for a parking spot again.
This article is sponsored by Wolf Scooters.