It's a scenario that students are intimately familiar with: Two research papers, a calc exam and a group presentation are all on the horizon. You're tired, overly-caffeinated and have threatened to drop out (at least once) to form a travelling gypsy band with your other tired, overly-caffeinated friends. Little did you know that this is a problem easily remedied because sometimes it's less about how you study and more about where. Check out a definitive list of the University of Florida's top places to drown in notecards.
 1. Marston Science Library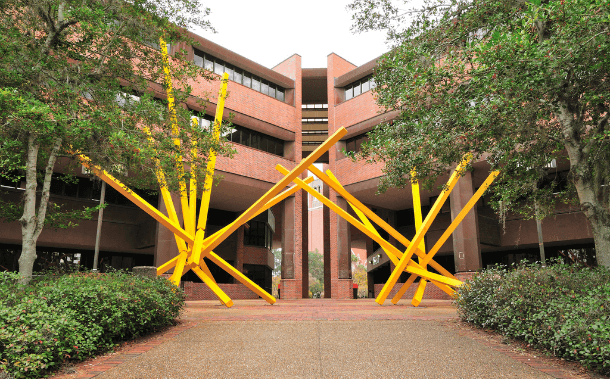 Marston, now UF's second 24-hour library, is located centrally near Turlington for easy access regardless of where you live on campus. "I concentrate better in silent areas, so my preferred study location is a study room in Marston's Collaboration Commons floor because it blocks out all the outside noise," junior Kathleen Marie Libo-on said. Marston offers a wide variety of updated group study rooms, perfect if you need a flat-screen hookup for lecture videos…or Spotify (Let's be real). Its floors are labeled according to noise allowance and it's also the latest library to host a Starbucks, which has recently made it pretty popular.
 2. Pugh Hall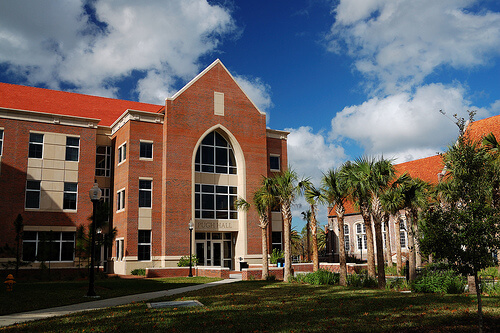 Pugh Hall is a lecture/study hall combination favored by students who want casual comfort. "I prefer to study at Pugh because of its spacious booths and the fact that it's not too quiet, but quiet enough to be able to study," junior Sofia Chang said. Its multi-tiered lounges are great for group or solo work and the noise level is low to moderate, but be wary during the summer semesters; preview staffers host guidance sessions there so it tends to get crowded.
3. Apartment/Dorm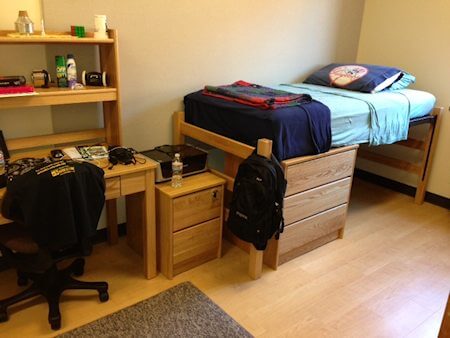 Some students prefer avoiding crowds and noise altogether. "I'd rather study at home alone because I need absolute silence, especially during finals," junior Brandon Fantozzi said. This is a great option in a pinch or if you have superb willpower against distractions (*cough* Netflix *cough*). Most apartment complexes offer study spaces or printing labs if you don't feel like travelling. Dorms like Beaty Towers offer a common area with a secluded study room with 24-hour access for residents.
4. Reitz Student Union
This space is often overlooked due to the high traffic and noise levels, but there are tons of comfortable seats, plus the food court is right upstairs. Despite the constant distraction factor, there's an undeniable benefit that keeps it in the running. "Strongest Wi-Fi connection. 'Nuff said," freshman Mikey Hernandez said. Bonus: There's free printing and Subway.
5. Pascal's Coffee Shop & Coffee Culture
Pascal's is a locally-owned Christian coffee shop off West University Avenue. It has two-stories, a balcony, cushioned chairs, couches, tables and a roaring fireplace to complete that relaxed café atmosphere. Pascal's also has pastries, desserts and a self-serve coffee station. Coffee Culture is another option for those who take their caffeine with a side of good vibes. It offers quaint, euro-inspired décor and fresh gourmet treats daily, alongside a killer plasma screen. "It's a great environment, and it's usually pretty quiet, a perfect combination," junior Alyssa Johnson said.
6. Smathers Library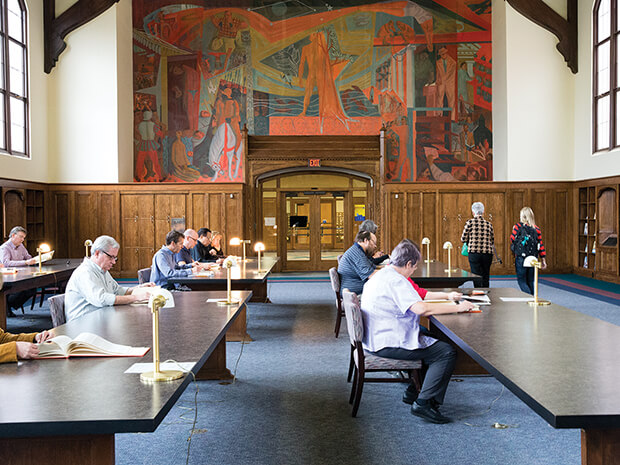 Smathers Library is home to UF's historic documents collection, so if you're willing to brave the strict security, then you're in for a treat. The reading room has a castle-like feel with grand, arching ceilings and ornate windows. If you head to the next floor up, there's a more relaxed area with cushy chairs, long tables and plenty of outlets. This is also a great place to go if you're sick of crowds as Smathers is much lesser known and often emptier than Marston or Library West.  "I like to study on the third floor of Library East in the Latin American and Caribbean Collection because it is less well known than West or Marston, and it feels like a cozy environment," junior Carlos Gonzalez said. "It's also really close to where I live, and has cool books to take a glance at during study breaks." If you're over the basics taking over Lib West, set the trend and check out Lib East.
7. Little Hall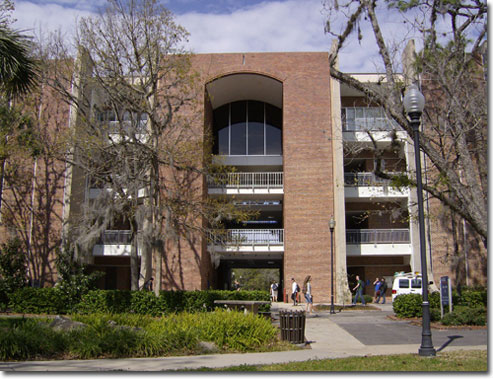 Little Hall is another oft-overlooked location. Grab a quick bite at Little Hall Express just outside or lounge on the benches in the shade. More of a solitary studier? No problem, just head inside after hours. "I prefer the Little Hall classrooms because they tend to be empty at night and I like having my own room to study," junior Erik Hanson said.
 8. The Harn Museum's Asian Water Garden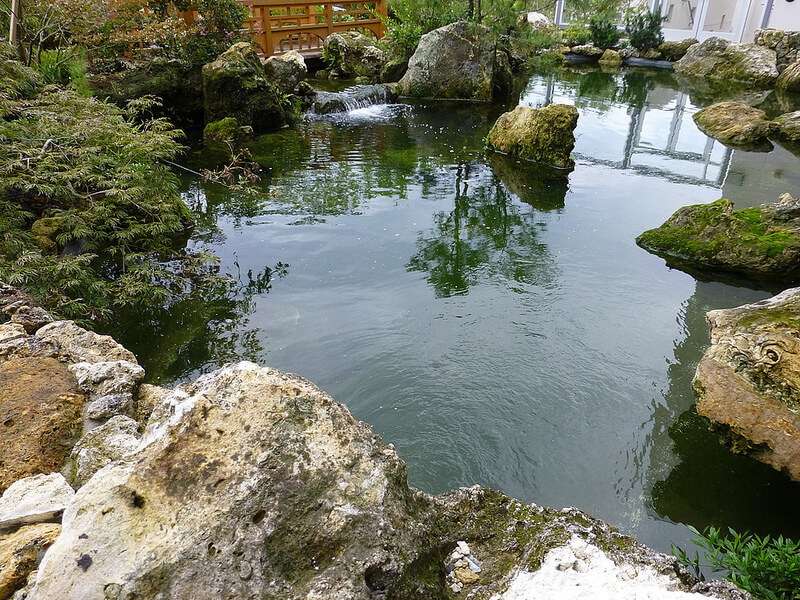 This is well worth the drive if you're more into nature. The Harn offers a few walkable gardens with gorgeous, rustic flora, and only feet away from the exhibits. These spots are great for when you want to change things up. "I get tired of the same scenery over and over again. The gardens are different and way more relaxing than any other place on campus," sophomore Kevin Tran said.
9. Computer Science and Engineering Building
Regardless of your major, CSE is a great spot for those who want the freedom to do their own thing. "I like to study in the CSE basement because it's quiet, has a chalk board for full use, and you can play music as loud as you want when classes are done," junior Eduardo Molina said. CSE is also right next to Marston, aka, Starbucks, if you need a quick change of scenery.
10. Library West
Library West is one of UF's largest libraries and a perennial favorite for many. "It's right in the middle of campus so the location's pretty hard to beat," junior Kendall Wasselle said. It also utilizes the floor-to-noise-allowance ratio so students can choose based on how quiet they want their area. The ground floor is home to a Starbucks for a quick caffeine pick-up as well as a café-like atmosphere, offering plenty of tables and comfortable chairs, perfect for group studying or small club meetings. Study rooms are available for booking through the D!BS room reservation system online.
11. The Social Stairs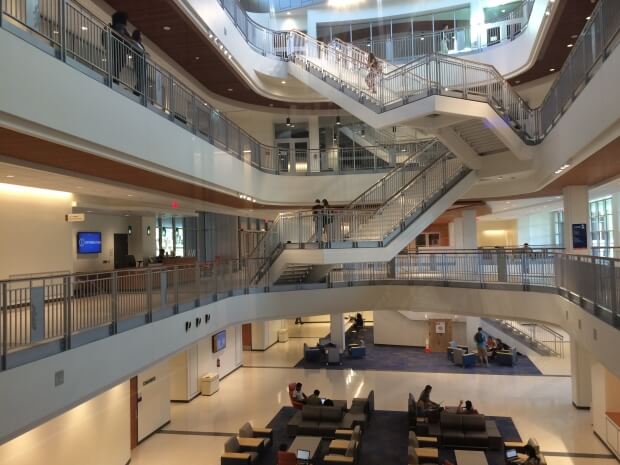 The new Reitz Union has an unlimited amount of study spots. "I just discovered it one night when I was trying to get food and didn't want to walk to the library, so I just started there, and I was really productive which is abnormal," freshman Emily Harrell said. The social stairs, equipped with tons of outlets to stay charged up, work as the perfect aesthetically pleasing study spot because of the view you have of the lake and amphitheater. You might find it kind of loud because oodles of people buzzing in and out during the day, but what better time to close yourself off from the world with your headphones? At night you'll find a more quiet and relaxing Reitz, though. This spot is the golden spot of your study spot treasure hunt.
12. Anderson Hall
Anderson Hall, home to the political science department at UF, has limited access at night because it's a classroom building. If you're cool enough to have a key, though, your chance of night access is higher. "The ability to study in the classroom triggers the environment of getting work done," junior Steven Baldizon said. "The wifi is also spot on. I can stream my wrestling on the big screen." Glad to know you're using the rooms for educational purposes, Steven. If you need the occasional distraction to keep you going, don't study here; You can hear a pin drop in the hall at night when classes are over. Anderson's for the quiet only.
13. Health Science Center Library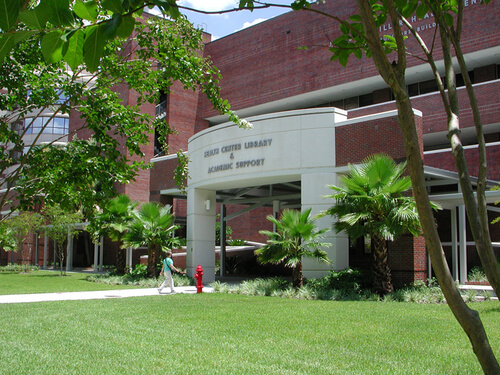 Down the street from the Psychology Building, the Health Science Center library serves as home to med students from all over UF. Books line the walls and the med school students all around motivate you more so than regular students. "I like that study spot because it's really quiet all the time, and people always seem really concentrated there, so it always enables me to be concentrated," junior Marilyn Figueredo said. The intense med-schoolers with their Michael Phelps study faces on encourage you to get your work done sans "study breaks." This shouldn't be your go-to for a group project, but the Health Science Center library could motivate you to finally finish those papers you've been putting off.
14. The Hub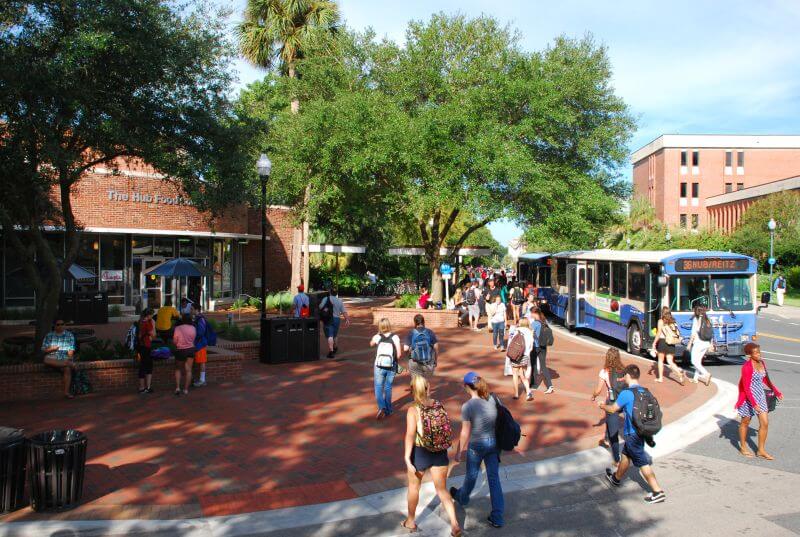 The Hub, a.k.a. the hot spot for breakfast and lunch on campus, has a variety of study spots within it (like Inception!). In one area, there's a wall directly in front of you that blocks your view from anything that could be a distraction. "I actually discovered it when I went to the hub support, tech support area, and I saw it as I was leaving. I was like 'oh my gosh that's a great study spot,' and I've been studying there since," junior Joshua LaSelva said. The Hub has Einstein Bagels, Starbucks and Chik-fil-a, so you never have to loose your spot when you get the study munchies.
15. Microbiology and Cell Sciences Building
Because this building sits apart from literally everything else on campus, and the only students that really go there are students taking Microbiology, you'll find the most study spots available in the Microbiology and Cell Science building pretty. The open classrooms throughout the building give students the classroom vibe to crack down for that dreaded orgo exam. Natalie Balmori, a biology major, said she likes it because it's empty and it's quiet. "My TA for microbio lab told me about this place, and I love her for it," Balmori said. The limited parking around the microbio building makes it slightly inconvenient if you're coming from somewhere off campus though. As if a lack of parking is news to UF students anyways.
16. Architecture & Fine Arts Library
Every time I pass by the architecture building, I stare for a couple seconds just admiring its beautiful structure ."It's never too crowded, and it's quiet, but not too quiet," junior Tatum Blacher said. "I also really love the double-deckers. And I like that it's small and quaint."  No, there aren't double-decker buses in the library, but there are double-decker desks. Picture studying six feet above everyone and having a person underneath you or being underneath someone studying above you. It's intriguing but would also freaky but also awesome. Nothing like a study buddy stranger to keep you from procrastinating.
17. Third floor of Weimer Hall
Weimer Hall is my go-to study spot at any time of the day. The long, white tables on the third floor that line the window and look into the Weimer courtyard, lined with trees and interesting wooden structures, are a nice, quick distraction in the moments you just cannot concentrate. But there are other great spots throughout the building too. "If I want a quiet space, I can sit in an armchair on the second floor," sophomore Gabrielle Calise said. "If I want to work on a group project or study with friends, the AHA! Lab gives us plenty of space to spread out." Though J-school students are the ones who are drawn here to study, all students are welcomed.
18. Levin College of Law Library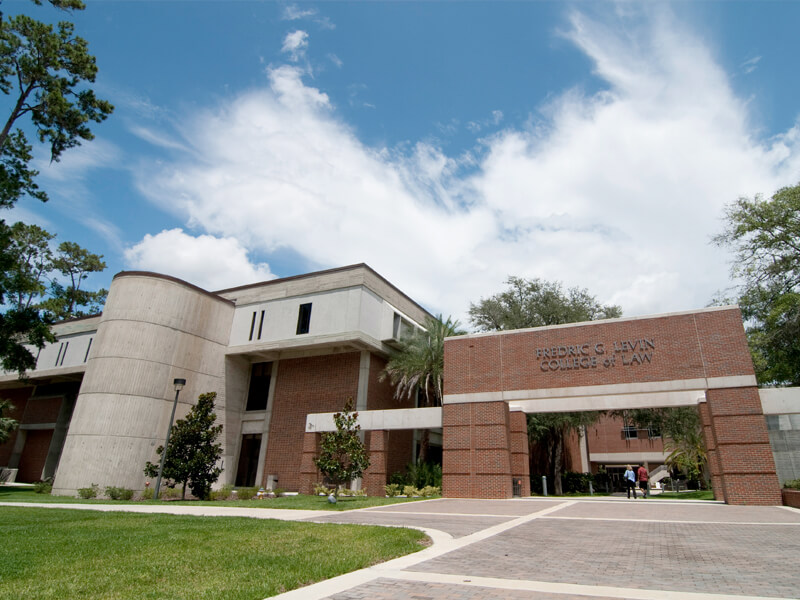 Levin is another one of those places that you wouldn't go work on a group project in. Like med students, law students stay very concentrated and determined to. Law school ain't no joke; better channel your inner Annalise Keating if you want to hang with the big kids. Especially since law students might be kind of annoyed to see undergrads take over their space. But just show them you can adult too.
19. Lake Wauburg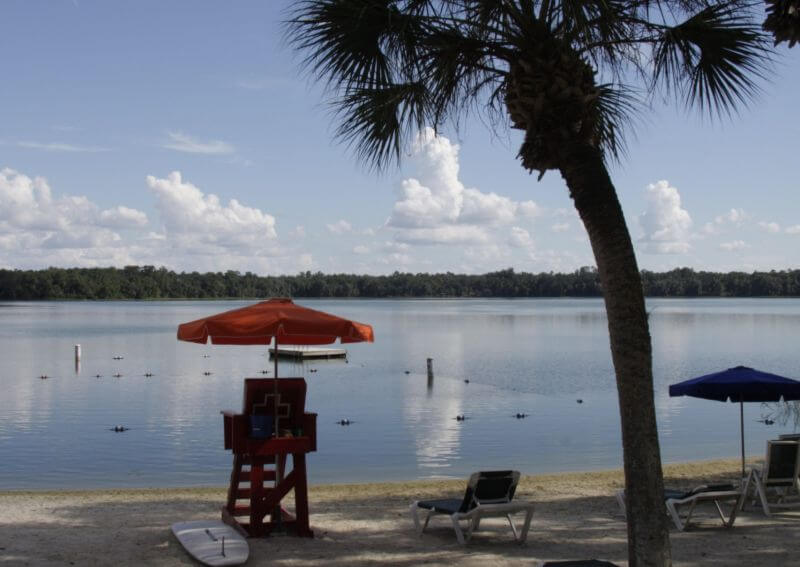 If you're the kind of person that likes sitting outside when Gainesville the weather permits, Lake Warburg should be your new favorite study spot. Though the lake isn't on campus, the short drive or bus ride let's you appreciate the nice change of scenery. "It's very peaceful there, and the view is great," sophomore Stephanie Leonard-Jose said. "I like to study in one of the hammocks that we're able to check out. It's very relaxing." If you need a study break, you can go for a swim, kayak a bit, or sunbathe in the Florida sun.
20. Carleton Auditorium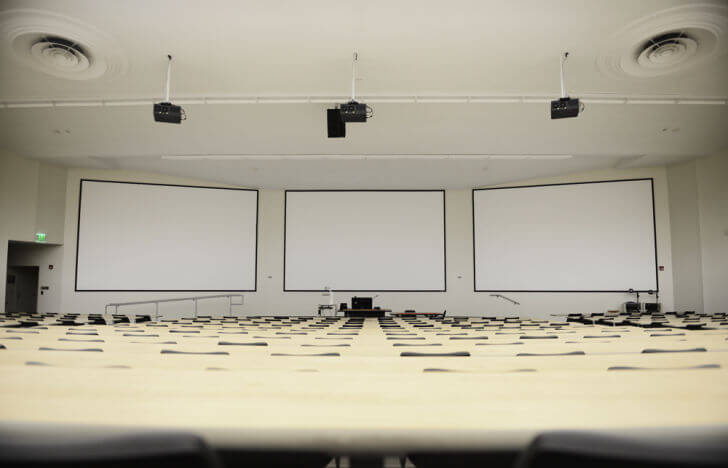 Most of you know Carleton auditorium as the place where your hell-week exams take place. Some students also know it as the 700 plus auditorium where they had their first legit lecture class. But you might not know that during finals week, this auditorium is opened 24/7. So if you're in Marston and it seems like the entire university decided to study at the same time you are, or if you're looking for something a little different, check out Carleton. No coffee shops open near the auditorium at night though, so you better brew your own.
*Updated on November 18, 2016 by Christy Pina to include spots 11-20.